Dr. Kent Gallaher Champions Renewed Focus and Innovation as Provost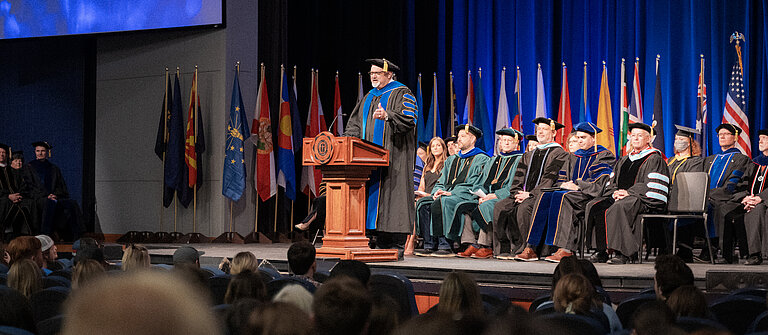 Dr. Kent Gallaher, LCU's new Provost and Chief Academic Officer, began his work on July 1, replacing the recently retired Dr. Foy Mills, Jr. ('80). His vision for LCU's future builds on the solid foundation established by Dr. Mills and by Dr. Rod Blackwood ('63) before him. Since his arrival, Dr. Gallaher has spoken often of this vision, encouraging LCU's deans and faculty to continue dreaming and working toward the fulfillment of a vibrant and innovative path forward.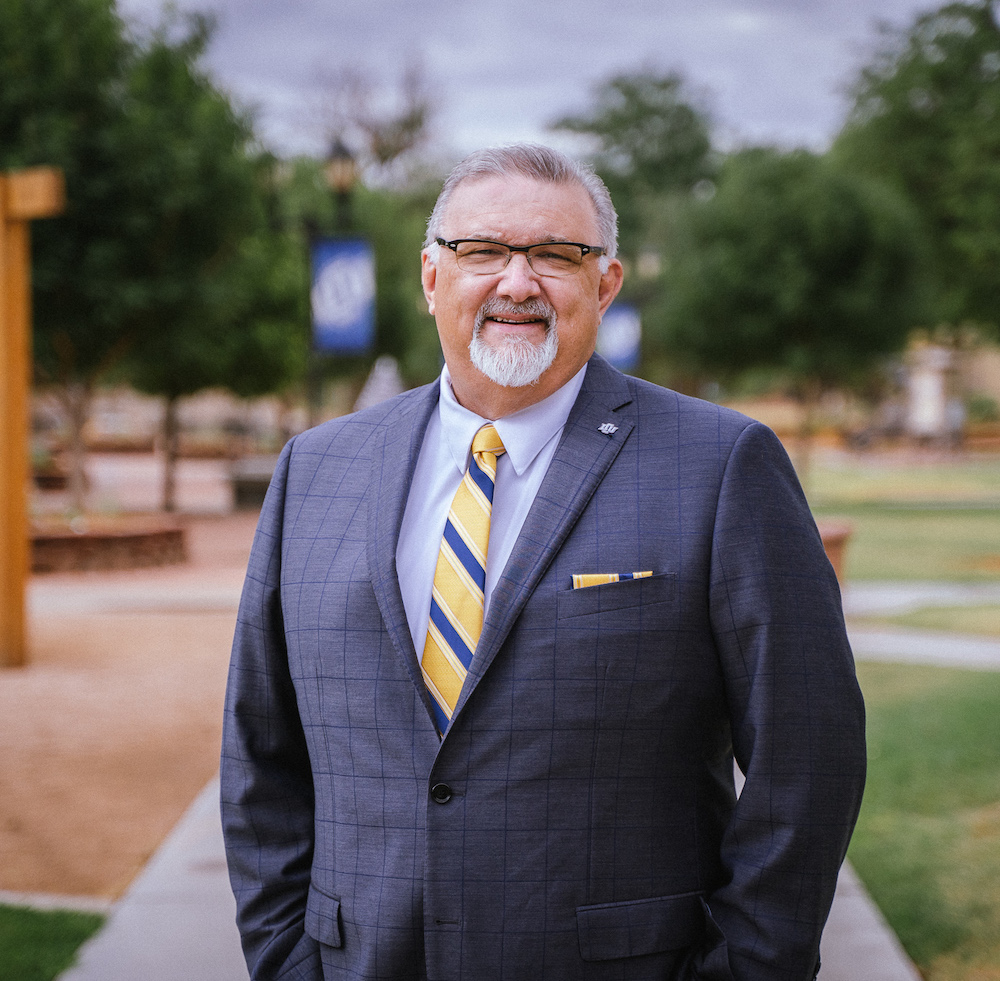 Dr. Kent Gallaher was named LCU's new Provost in 2022.Gallaher brings many years of academic experience to this pivotal role. After graduating in 1991 from Lipscomb University, he went on to complete his Ph.D. from the University of Tennessee, and then returned to his alma mater, where he spent the following 20 years. His first appointment was as assistant professor of biology, but he served in a variety of capacities over the years, most recently as Associate Dean of Strategy and Faculty Development in Lipscomb's College of Liberal Arts and Sciences.
During a brief break early on in his time at Lipscomb, Dr. Gallaher and his wife Marsha moved to teach at Abilene Christian University for a few years. It was then that he was first acquainted with LCU, when a close friend brought their children there as entering freshmen. While in Abilene, he also worked with LCU alumnus Dr. Foy Mills—the same Dr. Mills who would later become his predecessor at LCU—and the two would make trips to Lubbock to recruit students to their graduate programs. "Whenever we were up here, then Foy would have to come by and see his alma mater," Gallaher explained, "and that was when I was first exposed personally to LCU."
In 2008, he left ACU to rejoin the faculty at Lipscomb, where he would remain until the summer of 2022. "After several years, Foy reached out to me and asked me to be a professional reference for him when he was applying for the provost role at LCU," he recalled. "It was really through that process that I got to know a little bit more about the university, especially as I interacted with President Tim Perrin over the telephone as I vouched for Foy." A short time later, another friend and colleague, Dr. Scott McDowell, entered the search for LCU's seventh president following President Perrin's departure. When Dr. McDowell was eventually named to that position, Dr. Gallaher traveled to speak to the LCU faculty during the presidential inauguration week in the fall of 2020.
Both Dr. Mills and Dr. McDowell respect Dr. Gallaher's experience and expertise in building academic programs, and they would often seek his advice when investigating new academic initiatives and programs. "The area I've kind of built my career around is new program development," Dr. Gallaher explained, "so as LCU was looking for ways to create new programs to attract new student demographics, I visited often over the last several years. I felt like I had a seat at the table, a chance to see what was happening behind the scenes on this campus."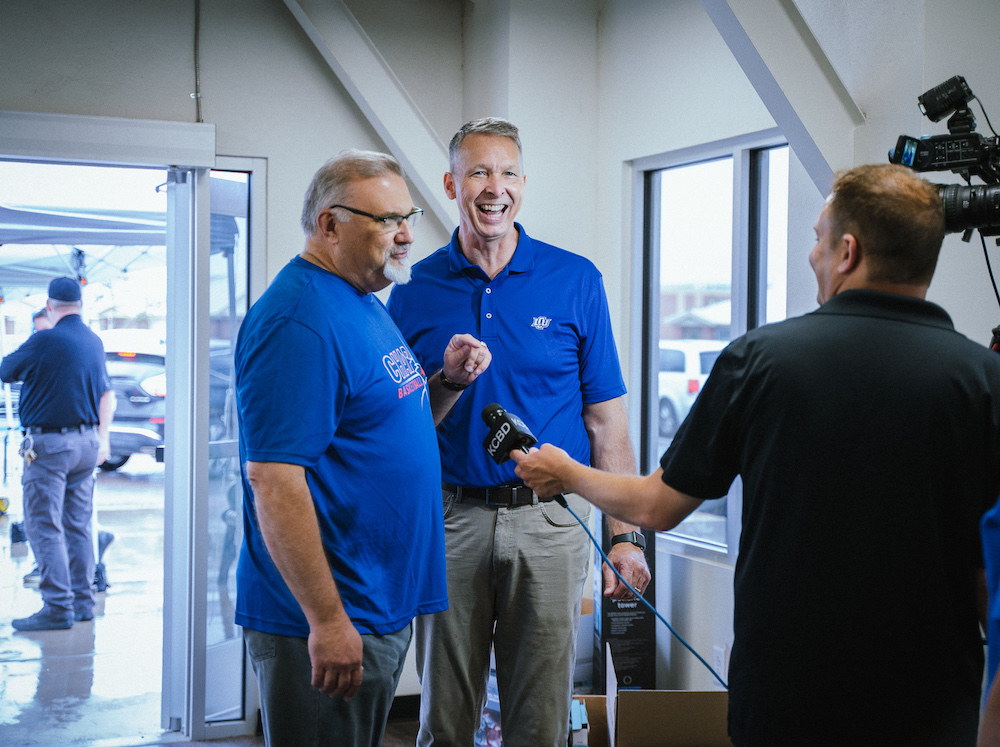 Dr. Gallaher works closely with President Scott McDowell as he strives to bring his vision for the University's future to life.Still, Dr. Gallaher's path would not fully bring him to Lubbock for another couple of years, when Dr. Mills announced his retirement from a 41-year career in higher education in the spring of 2022.
"When we found out that Foy was retiring, my wife and I felt that perhaps this is a calling that we might have to Lubbock," he explained, "and we began to explore whether this might be a good place for us." In May, Dr. Kent Gallaher was announced as LCU's new Provost and Chief Academic Officer. Just a couple months later, on July 1, "Dr. G.," as he has affectionately been known to his students, arrived in Lubbock, "ready to go to work."
That work would begin immediately, as Dr. Gallaher was tasked with presenting his vision to the Board of Trustees during their annual retreat early in August. "I see LCU as a rocket ship sitting on the launchpad," he explained, "with lots of potential. My vision for the university moving forward is to create some new academic programs that allow us to expand our reach, that will help us become more sustainable as an institution, and that will allow us to have a greater impact for the Kingdom of God."
The model that Dr. Gallaher hopes to adopt will focus more on reaching different demographics, adapting to the changing landscape of higher education. "We've often worked with a model in Christian higher education that focuses almost exclusively on 18-year-old students coming right out of high school, producing this one product in a bachelor's degree—that's been our entire focus," he explained. "The problem with that approach is that since 2012, the number of college students across the United States has been decreasing. We hit a peak enrollment in colleges about 10 years ago, and we have three-and-a-half-million fewer traditional students enrolled in college now than we did then. We also know that the Church of Christ demographic is shrinking, and as we look at racial and ethnic demographics, we're seeing a surge in the Hispanic population in the United States, particularly in the state of Texas. We're seeing a lot of changes that we must address."

Dr. Gallaher hopes to develop innovative programs that start with his passionate faculty.While many may see these shifts as challenging to universities, Dr. Gallaher is laser-focused on the opportunities they present. "We want to make sure that we're creating programs that allow us to take advantage of those changes," he explained. "We want to take advantage of emerging markets like adult and graduate degree programs."
"Because I'm a scientist," he shared, "I tend to think of our academic program kind of like an ecosystem where we have different levels, and each of those levels feed into the next. We can kind of imagine that, if we have some sort of alternative credentialing program for working adults, that can lead into a degree program, which in turn leads into a graduate degree program, until ultimately, we're offering terminal degrees."
"I want to adopt a spirit of innovation," he continued, "which I think pairs well with our Pioneer identity at this university. Pioneers must be innovative, right? You can imagine yourself with a homestead on the southern plains, and a tornado comes through and tears everything up, and you've got to figure out how you move forward. I want to couple that with an attitude of growth as we build our academic portfolio as a university. As we join in the work that our marketing communication department and our admissions and recruiting personnel are engaged in, I think we could see the university surge forward—not just creep, but surge forward—in the coming years."
Dr. Gallaher described the strengths he brings to the LCU community using the Clifton Strengths model, one with which many students, faculty, and staff on campus are familiar. It focuses on identifying and leveraging personal and professional strengths, especially in the context of an organization. "I'm very action-oriented," he explained. "I'm someone who analyzes very quickly, who works very quickly, and is going to do something. When I encounter a problem, I'm not the kind of person who will experience paralysis-by-analysis—I assess quickly, I will formulate a plan quickly, and I will begin to execute quickly. Then, I'll adjust my plan until I hit the target—the desired goal."
"I'm also someone who only wants to be involved with things that can be the best they can possibly be," he continued. "My family used to kid with me when I was younger and say, 'Well, you know, if he can't be the champion, or if he can't be the best, he's not even going to try it.' I'm that way in how I approach my work. When I was a department head in a Department of Biological Sciences, my goal was to have the number-one ranked biology program among Christian colleges in the United States. It took me about eight years to do that."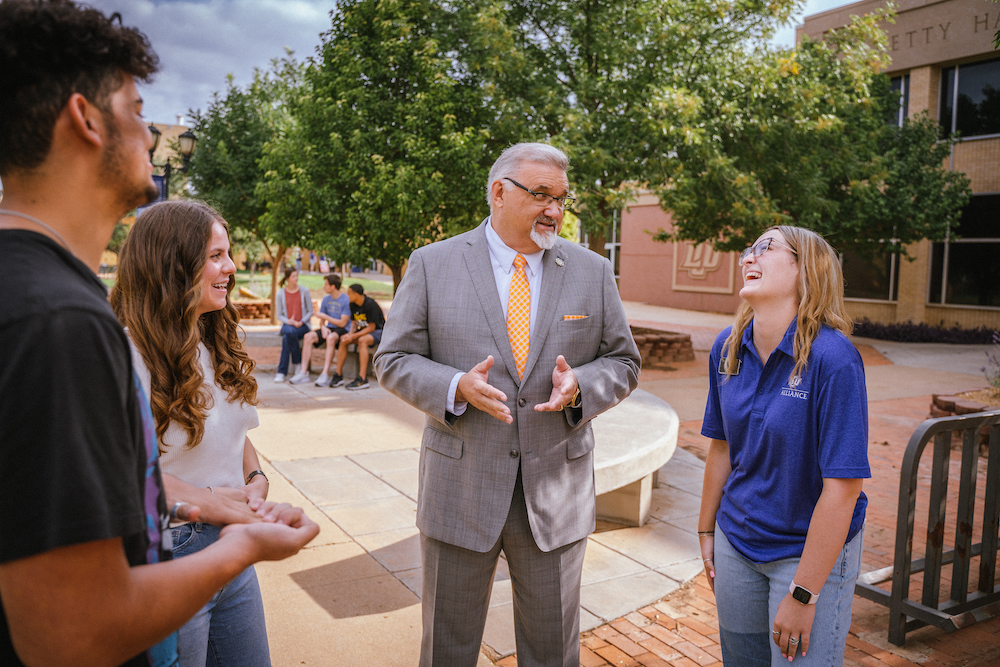 One of Dr. Gallaher's strengths is a profound ability to connect not only with his faculty, but with LCU students as well.Another strength Dr. Gallaher demonstrates is an infectious positivity. "I'm so positive, I can be annoying," he joked. "I'm always a cheerleader, a believer that we can do big things. On the backside of that, though, I also suffer from being very empathetic. I'm a gigantic man—six-foot-four, about 300 pounds—but if you start crying, I will start crying right with you. I can make connections very quickly with people, and I tend to manage and motivate from a position of relationships. I think that when people know that you care about them as individuals, it makes it a lot easier to get folks to buy in to whatever the goal is that we're trying to pursue."
In terms of experience, Dr. Gallaher brings significant experience in program development. "I've created or revised eight or nine undergraduate programs over the course of my career, and I have created from scratch three graduate programs. In my most recent role, I was responsible for annual program assessment and review for every program in a college that was about the same size as this university." He hopes that experience in program development, program assessment, and program management will precisely provide the tools he needs to help LCU build its momentum and growth. "I think folks are eager to see this university grow and succeed," he continued. "We're very open to trying some new things, and I'm excited about where we could be in three to five years." And if his goals to announce new graduate programs by the winter break is any indication, he has hit the ground running at LCU.
As he has taken over his responsibilities in recent weeks, Dr. Gallaher has received encouraging support from across campus. "I've found that the people at this university are just amazing," he shared. "It reinforces what I have come to expect from the West Texas ethos. I married a girl from West Texas—my wife is originally from Abilene and her father is from Andrews, and he graduated from Odessa High School. We have all this family out here, and I've been immersed for 37 years in this West Texas family with solid values and who are open and welcoming."
While he may be leading that charge, at least on the academic side, Dr. Gallaher hopes to tap into ideas already growing across the campus. "At our faculty conference, we did some brainstorming," he explained. "I presented a method for us to develop new programming so that it comes from the bottom up. We don't want an administrator who's disconnected from the streets, where the rubber meets the road, dictating what programs we should or should not start."

Dr. Gallaher views his role at LCU as more than a job—"It's a calling," he said."I certainly have ideas about where I think, we should go," he added, "and I've reached out to folks in those areas to think about and investigate those, but those programs must be built from the faculty up. If somebody just walks in one day and tells you to develop a program, that's not a healthy beginning. A good leader comes in and asks, 'What do you think about this?' I want to get people excited about doing something and let them come up with great ideas."
Despite his optimism and excitement at propelling LCU forward and embracing the oncoming opportunities, asking his wife to leave their longtime home in Nashville was not without its sacrifices. "We would not be here unless we believe that God is calling us to be here at this place at this time to do something for the Kingdom," he emphasized. "I left a position that I'd had 22 years at Lipscomb University. I could have very comfortably over the next eight or 10 years just coasted into retirement."
But as difficult as those ties and comforts were to leave, they also serve as a testament to his dedication to the cause he shares with LCU's deans and faculty. To Dr. Kent Gallaher, LCU has already proven to be a special place, but as he looks ahead, an even brighter future awaits. "For me, being here is not a job," he affirmed. "It's a calling."
Mills Retires from Career in Higher Education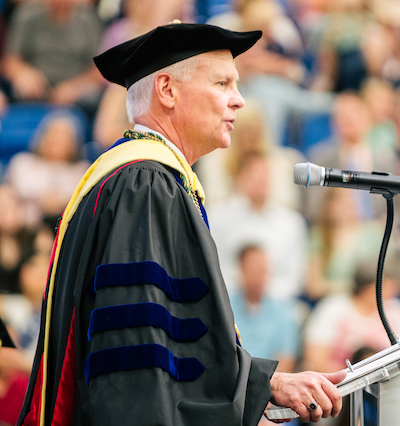 In June of 2022, Dr. Foy Mills, Jr. stepped down from serving as LCU's Provost and Chief Academic Officer (CAO), a position he held since June 1, 2018. Mills completed 41 years in higher education, having spent his career as a faculty member, department head, administrator, and finally as provost and CAO.
Mills began his long path in higher education in 1981, when he worked as an instructor in LCU's agribusiness program, while also attending Texas Tech University. He received his Ph.D. in Agricultural Economics from Texas Tech University and then taught at University of Georgia, Abilene Christian University (where he also served as an administrator), and at Sam Houston State. Returning to where it all started, Foy spent his final four years here at LCU.
As Provost, Dr. Mills was responsible for visioning, strategic positioning, and administration of all academic programming, both undergraduate and graduate, in collaboration with the academic deans. He orchestrated the transition of the Department of Business to the School of Business and the transition of the Honors Program to the Honors College. He also collaborated with faculty to undertake a major update to the Faculty Handbook and to the Academic Policies and Procedures. Dr. Mills also helped to establish student peer guides and to incorporate Clifton Strengths for Students in the University Seminar classes for all first-year students.
Mills grew up on a farm near Anton, TX, and in his retirement from higher education, he will be returning to his roots in agriculture. He is currently serving as an agricultural consultant and as an agricultural economist in Abilene, TX.