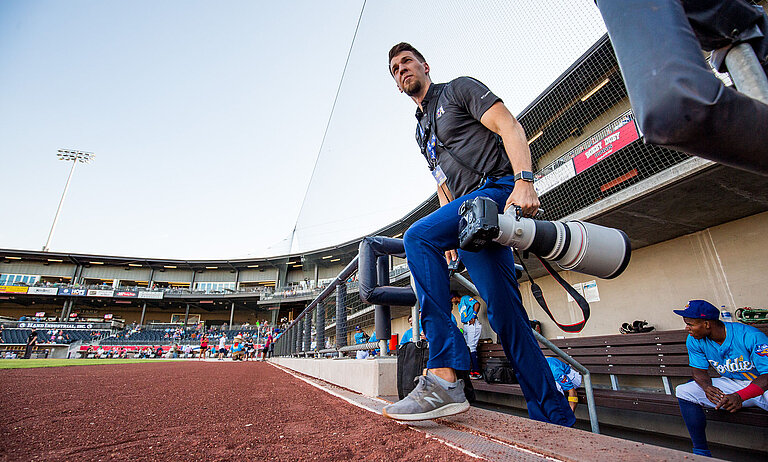 Some students arrive at college knowing exactly what they want to study, already pursuing a dream they may have had for years. Others, however, take a different path to find their calling—one of exploration, opportunity, and discovery. For LCU alumnus John Moore ('15), his passion for photography wasn't one he discovered until his college career at LCU was already well underway.
When he arrived on campus in 2010, John had planned to major in Music Business because of his love for band and music. After deciding that a career in that field wasn't what he ultimately wanted to pursue, he decided to change majors.

John first began photographing sports competitions during his time working with LCU's Marketing Communications department."I switched to general business," he explained, "just trying to figure out what I wanted to do." He quickly homed in on digital media, excited by the different creative disciplines within its broad spectrum.
John recalled that he wasn't initially focused on anything specific, but in 2013, his third year at LCU, he picked up a camera as a hobby, curious to see if there was any spark of excitement there.
"I wanted to try and do things like light painting," he recalled, "and creative nighttime photos." From there, he began branching out, taking portraits of friends, shots of campus life, and eventually he made his way to LCU's Marketing Communications (MarCom) office.
"I started working for MarCom as a student photographer," he explained, "photographing things like travel and on-campus events." He worked closely with Kris Tryon ('04), who was the campus photographer at that time.
Before long, John's work schedule began to include athletic events, and it was then that he truly began to connect his long love of sports with his enjoyment of photography.
"I was the kid that grew up wanting to be a professional baseball player, and I have loved sports all my life," he shared. "I wasn't ever particularly good at playing them, but I've always been passionate about it. When I finally started shooting sports, especially baseball and basketball on campus, it clicked—this was something I could do with the camera and be involved with sports in a way that I could enjoy. It was when I started photographing more sports that I truly narrowed down my focus and really became obsessed with sports photography."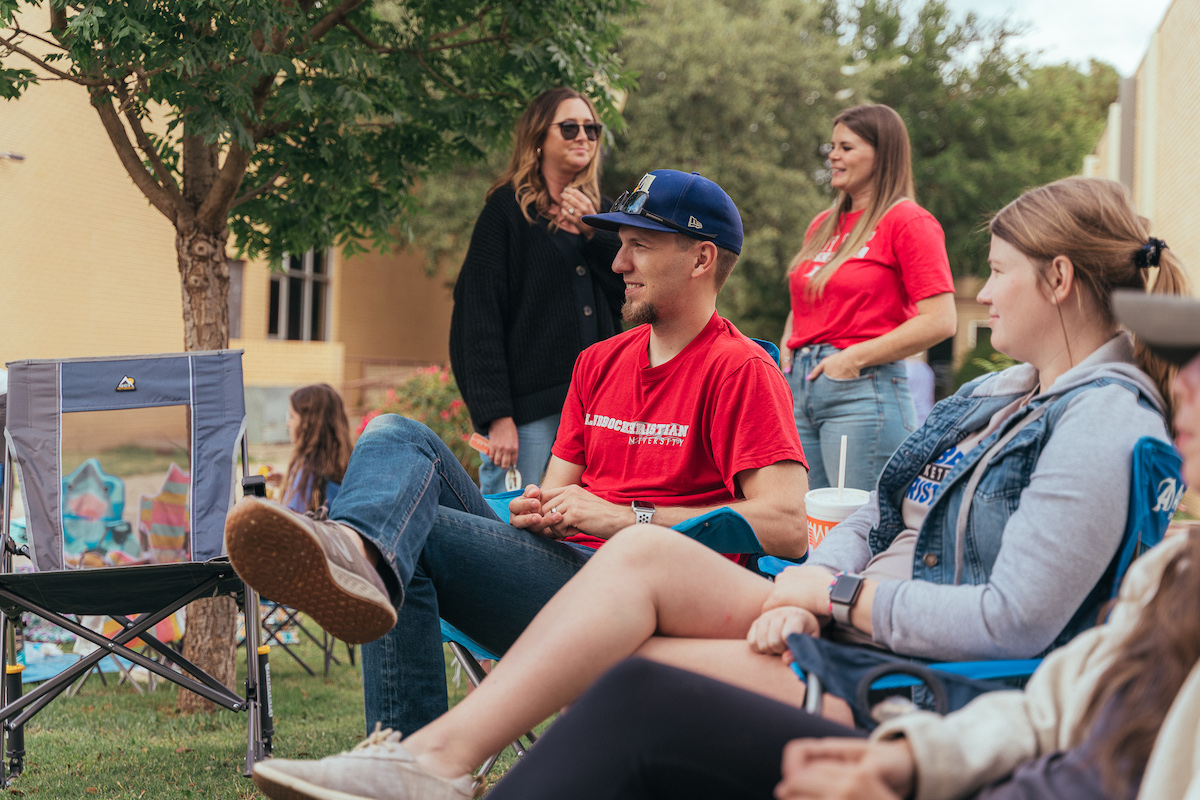 John forged lasting connections and close relationships at LCU that have continued even now.John didn't limit that interest to just a hobby, either—during his final year at LCU, he even brought an idea for a sports photography company to Chap Tank, an annual competition modeled after the ABC show Shark Tank, where LCU students could present business ideas to a panel of local businesspeople, who then judge the proposals and even award prize money for the best ideas.
John credits LCU's Digital Media Applications program with helping him develop his skills even before he knew what he wanted to pursue.
"Even from the earliest introduction classes, my professors gave me a view of all the different things you can do with digital media, whether it's Photoshop, video editing, taking photos and videos, creating graphics—those courses gave me a solid base for the different skills that I use in my full-time job and photography as a side job," he shared. "Even beyond that, as I progressed further in my degree plan, I got to do things like design entire magazines using my own designs and photos. I also learned so much from the student work I got to do through MarCom, going to different events, different games on campus, and even through my time with my social club. I was a historian for Koinonia, and I got to photograph every event that we had, including intramurals, rush parties, all different things like that. Throughout my time at LCU, I learned so much in the classroom, but I also gained so much hands-on experience across campus. I was able to hone my skills, and I discovered my passion for photography."
In 2015, John graduated from LCU with a bachelor's degree in marketing and a minor in digital media arts, which he immediately put to work.
"Right after college, I started shooting competitions for MaxPreps, which is a high school sports website," he explained. "That got me access to high school football, basketball, and baseball games. For the whole first year out of college, that's all I did."
One of the harder aspects of that job was the financial arrangement. "It was unpaid," he explained, "unless someone bought the photos." Still, that professional experience would soon lead to his first major sports photography position.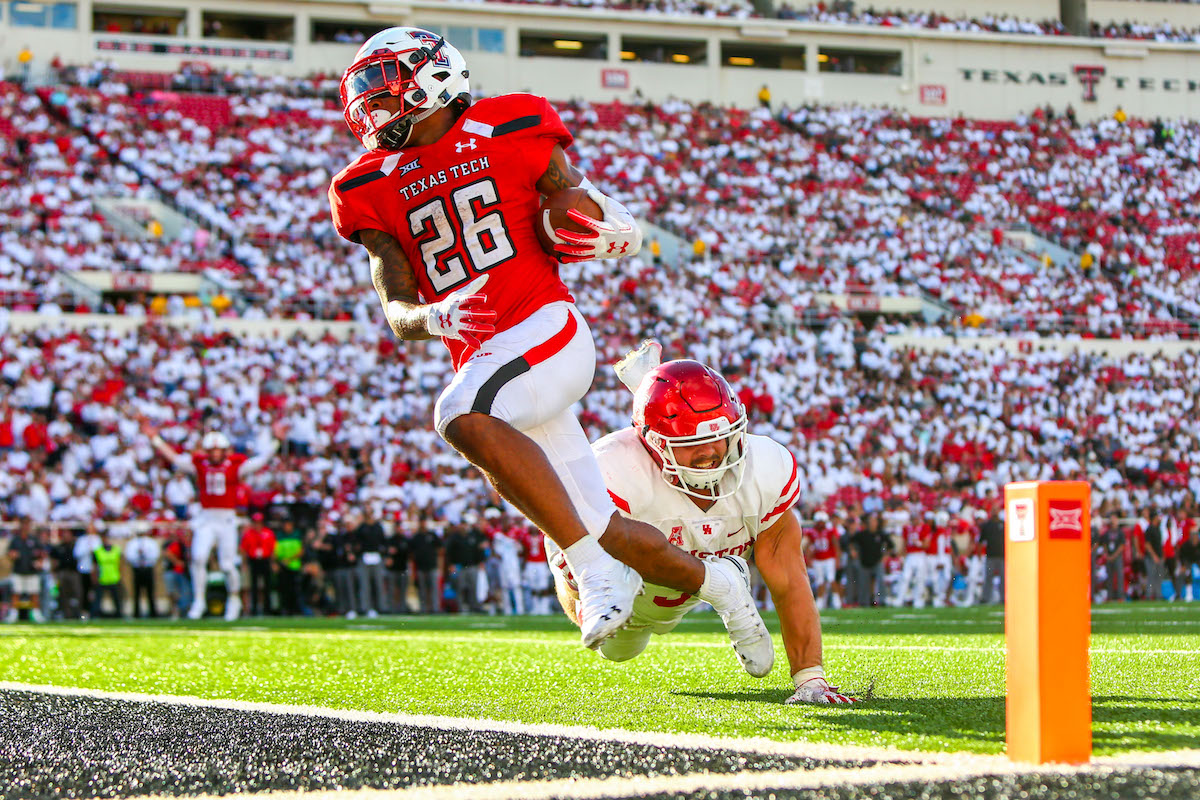 After graduation, John began his career as a freelance photographer for the Lubbock Avalanche-Journal, capturing local sports action like this one at a Texas Tech game."I was actually photographing a Lubbock Christian High School basketball game when Mark Rogers from the Lubbock Avalanche-Journal (AJ) was also there shooting," John explained. "He talked to me about how they were looking for more freelance photographers for the newspaper, so I applied for the position. Before long, I was taking photos for the newspaper, which led to shooting Texas Tech football starting in 2016."
Later that year, however, John would have to move away from Lubbock, when his wife, Reagan (Mills, '15), was accepted to Dental Hygiene school at Amarillo College. Thankfully, the Lubbock AJ was well-connected with Amarillo's newspaper, the Amarillo Globe-News, so John was easily able to continue sports photography in their new home.
"Our plan all along was to move there when she got into school," he explained, "so I just started shooting for the newspaper in Amarillo as soon as we got there. I would still come back and photograph some Texas Tech sports for both newspapers—they are sister outlets, so they would share some of that as well."
It was during their preparation for the move north to Amarillo that John stepped into his biggest opportunity yet.
"In the summer that we planned to move, it was announced that Amarillo was getting a professional baseball team," he explained. The Sod Poodles, a minor league AA affiliate of Major League Baseball's San Diego Padres, announced they would be making their home in Amarillo.
"Until 2019, I was taking photos for the newspapers," John continued. "But when the Sod Poodles began playing that season, I expressed interest in that position as soon as it opened. I went to the reveal of their team affiliation with the Padres, where I met their Director of Public Relations. I told him that I was interested in being their photographer, and we set up an interview with him and the rest of the marketing department. They shared their expectations for the position, and I shared my portfolio at that time. Though it wasn't a formal application, within a few days, we came to an agreement, and I started working for them shortly after."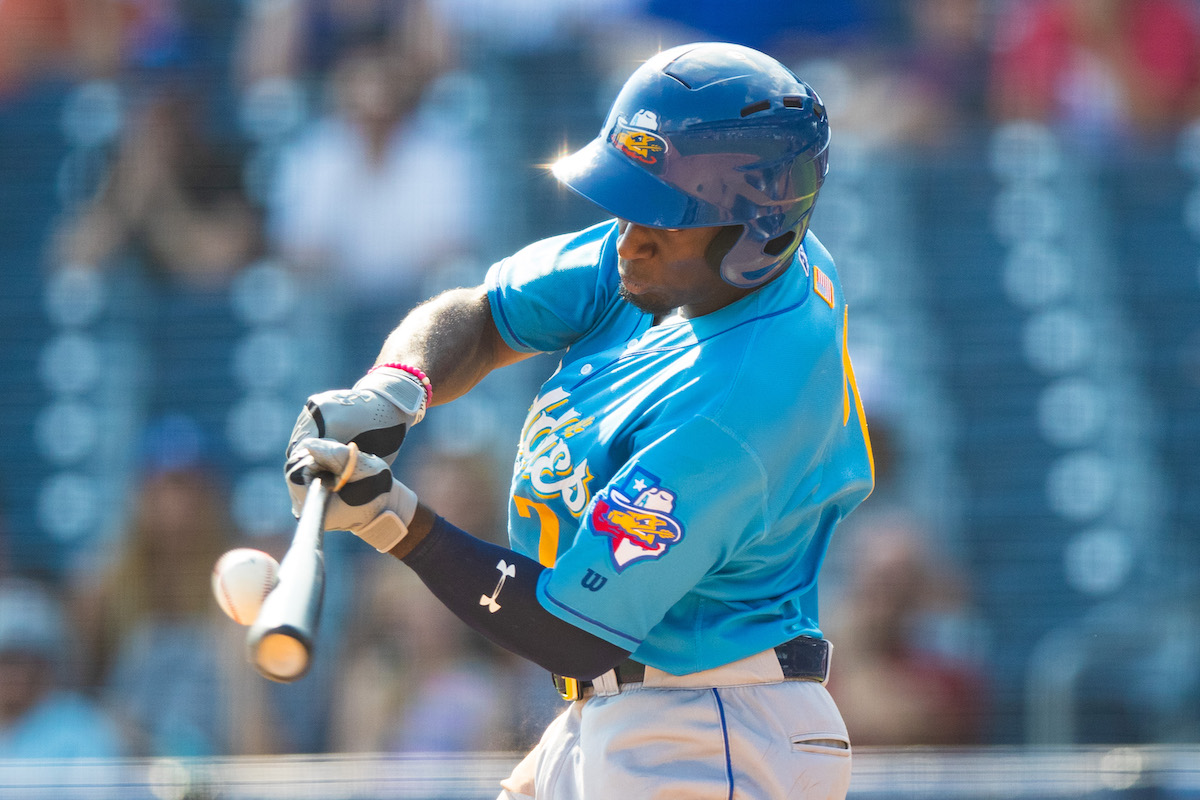 John's position with the Sod Poodles opened new avenues for recognition of his skills. Photos like this one are regularly used in a variety of sports media, like Topps baseball cards.At this point, John was working part-time for the Sod Poodles, full-time in marketing with a real estate company, and part-time with the newspapers as a freelance photographer. It was during that busy season that John's photos began to attract new attention.
"Near the end of the Sod Poodle's first season, I got connected with Getty Images," he explained. "They needed someone to photograph Texas Tech sports because their previous person had retired, and they were also looking to include more minor league baseball photography."
John began submitting his photos to Getty Images, and that exposure led to his photographs surfacing in some surprising places.
"There've been about 15 Topps baseball cards that I've seen that had photographs I'd taken," John shared. "A handful of photos have been used in MLB The Show—that's Major League Baseball's official video game—and I've even seen them on ESPN. I've seen my photography on all sorts of different websites, whenever people are writing about either Minor League Baseball, a team that Texas Tech plays, or even places like Bleacher Report, Baseball America, or Sports Illustrated. But it's not just in America, either" he added. If he photographs a player who is from a different country, often their home news outlets will use John's photos to accompany stories on their successes.
Aside from the professional recognition, though, John has also enjoyed the different connections through his time as a sports photographer.
"I've photographed guys who are going to be major league baseball players," he explained. "I've photographed players who have potential to be award winners, All Stars, even Hall of Famers."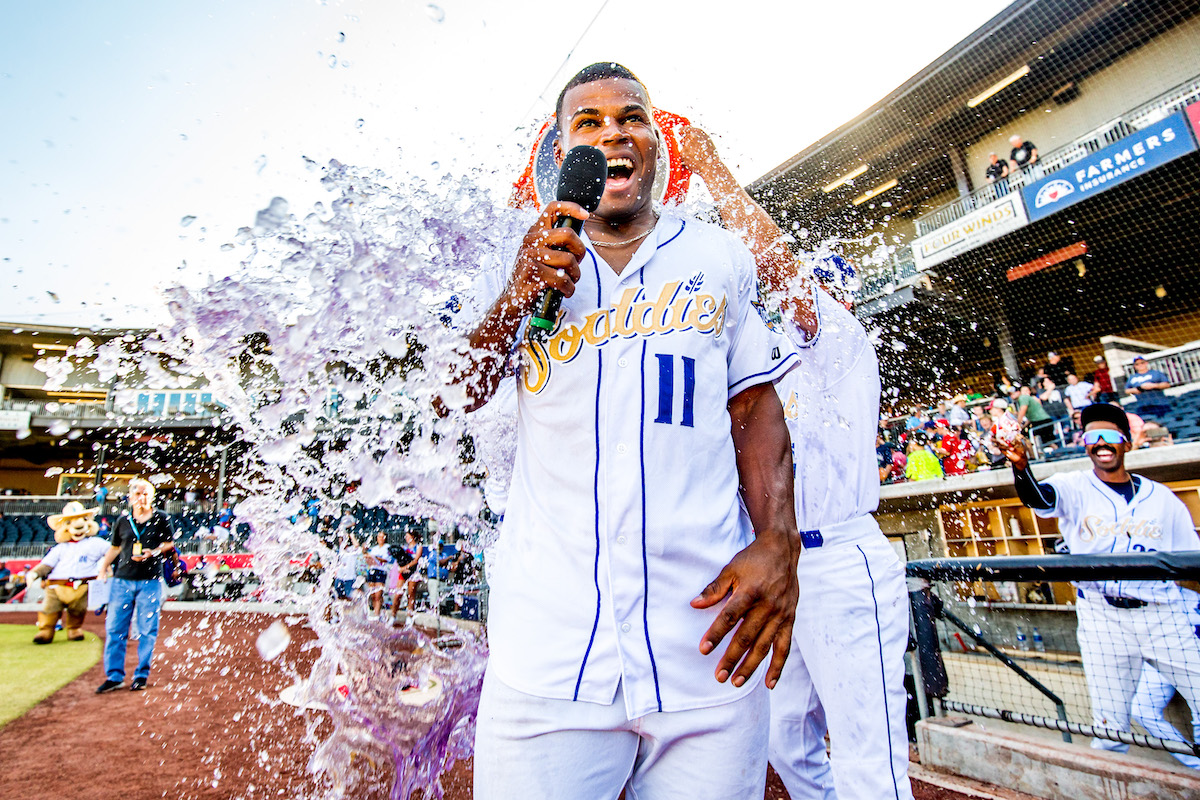 John's photos for the Sod Poodles would end up being featured in AAA video games, on ESPN, and even in Sports Illustrated."It's a cool dynamic with the players," he continued. "I would usually only see them around game time, and sometimes during batting practice beforehand. I'd send them photos, which they always appreciate, but before the game, when they're stretching, I'd be taking photos out there, and I'll have short conversations with guys here and there. Over a season, I'll get to know a little bit about where they came from, how they feel about being in Texas, about their music tastes, things like that."
Though some of the talent John's photographed still have further to climb in their professional journeys, John has already been able to meet baseball legends through his job. "I've also been blessed to cross paths with some current Hall of Famers—guys like Trevor Hoffman and Randy Johnson that I've gotten to meet. Those have been cool experiences as well, because those are guys that I watched growing up, when I was falling in love with baseball—especially Randy Johnson, who is literally larger than life."
One of his favorite memories was when the Sod Poodles won the league championship in 2019.
"The championship was held in Tulsa, and I got to go there for three days," he explained. "It was my first time being on the road with the team, seeing them in a different context. Getting to watch them win the championship and being on the field when they got the trophy, taking pictures for that, and just seeing how excited everyone was to have seen that group do so well throughout the season—all of it was incredible."
John even got his own championship ring to celebrate that year. "It was one of the coolest experiences that I've had with photography overall. Everything that I get to do as a team photographer, living out the dream of being affiliated with professional baseball, and seeing such talent on the field and the people that I worked with that were in the front office. It was something that will be hard to top."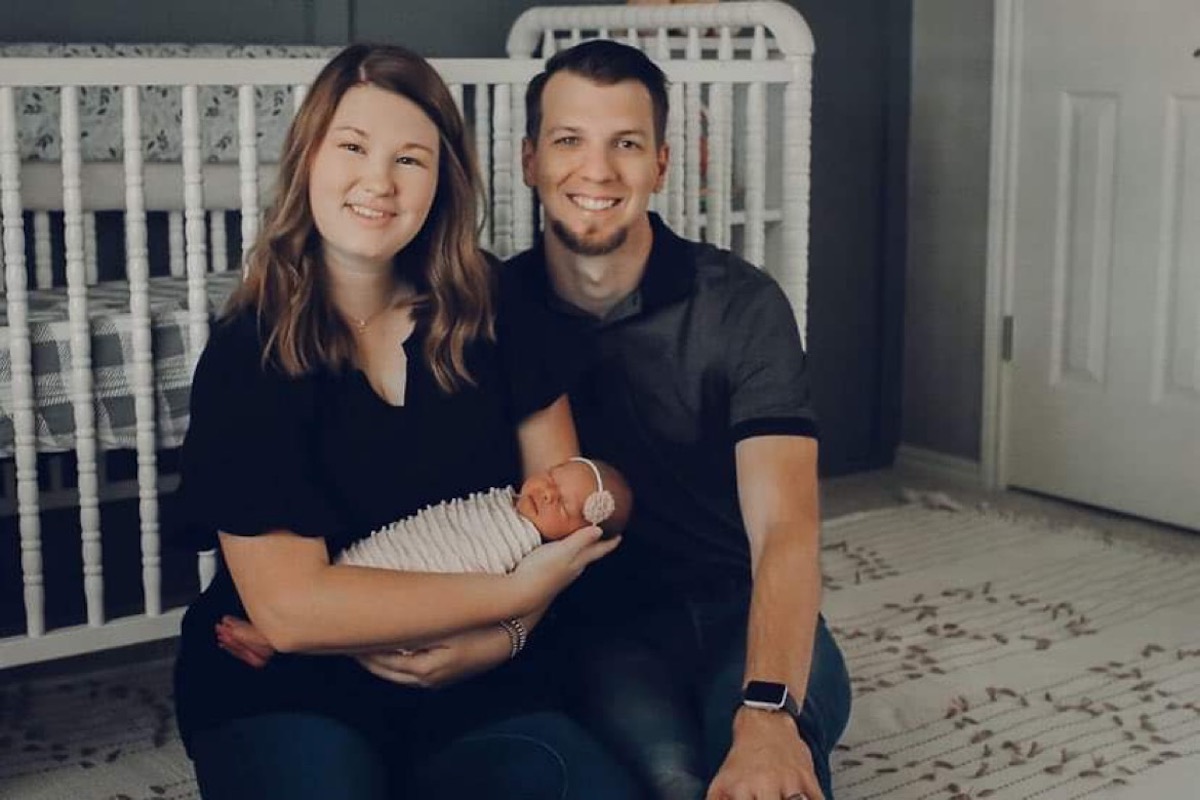 John and his wife Reagan welcomed their new baby last fall.For the moment, however, John is stepping away from his role with the minor league team. This fall, he and Reagan welcomed their first child into their home, and they made the decision to move back to Lubbock, where so many of their friends, family, and community calls home.
"We're so glad to be back, enjoying being around LCU, our family and friends, and having all that support as we had our baby. It's been amazing to see the people who are willing to be part of our lives."
Even stepping away from his time with the Sod Poodles, John knows he will continue to pursue his passion of sports photography.
"Hopefully, there'll be some different opportunities in the future, even if it's not directly connected to my previous work," he shared. "Working with the Sod Poodles has given me so many opportunities to show people the kind of photos I can create, along with my ability to work with different people within front offices, media outlets, and athletes themselves."
John says that he's not sure what the future holds for his baseball photography career—though returning to the Sod Poodles probably isn't in the immediate future, given the time commitment being gone from his family over the summers. Even so, he knows that his love for sports photography could lead to many different avenues.
And for this particular phase of life, John is content, having returned to the place where he first found his passion for photography and knowing that he can continue capturing special moments, with or without a camera.