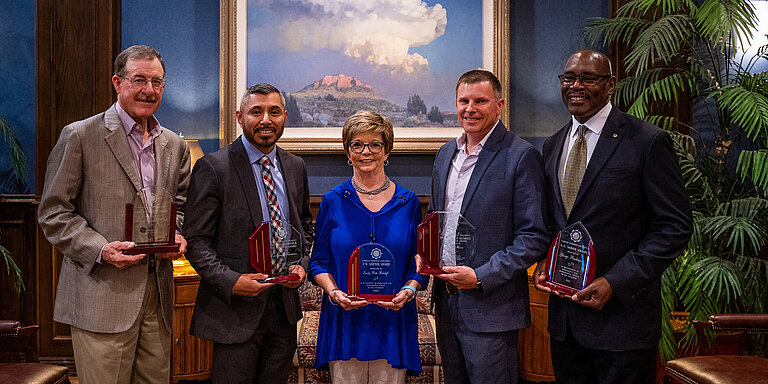 Lubbock Christian University recognized several outstanding alumni at the annual awards luncheon. The Alumni Awards are presented each year to recognize the significant success and service of distinguished individuals in their profession, communities, and to LCU. These individuals are making impacts not only in their immediate circles of influence but in the larger Kingdom of God as well.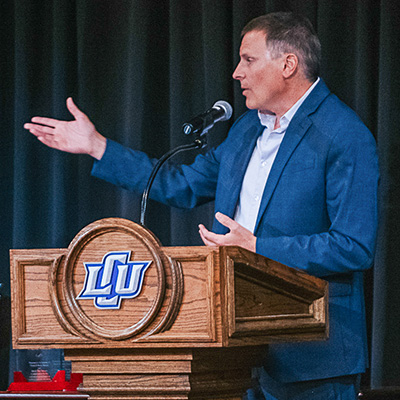 Russ Horn ('96)
Distinguished Alumnus of the Year (in recognition of significant professional and personal achievement)
Russ received his Bachelor of Arts in Mathematics from Lubbock Christian University in 1996 and his Master of Science, Management Information Systems from Texas Tech University in 2000. After graduating from LCU, he started his career in Admissions at LCU. He served as an Admissions Counselor, Assistant Director of Admissions, and Director of Admissions from 1996-1998. In 1998, he went back to school at TTU to get a master's degree in Management Information Systems (MIS), then worked in the IT department at United Supermarkets and at a startup IT Consulting company for the following 6 years. In 2005, he started working at CoNetrix as a Security and Compliance Consultant. In 2007 he was promoted to COO, and in 2011 he was named President of CoNetrix. CoNetrix is a family of technology companies including of AccountingWare, CoNetrix Technology, CoNetrix Security, and Tandem. CoNetrix companies service thousands of customers across the US and in a few other countries.
He was awarded Premier West Texas 12th Man Award in 2021. He received the Cybersecurity Excellence Award, Silver Winner of the Cybersecurity Educator of the year in 2020 and the ISACA, North American CACS Top Rated Speaker in 2018.
Russ is married to Heather (Grey, '97), and they have 3 children, Rylee Reynolds and husband Sam, Avery Howard and husband Cash (all current LCU students), and Zane Horn.
---
Emmanuel Ramirez ('07)
Young Alumnus of the Year (In recognition of significant professional achievement – under 40)
Emmanuel received a Bachelor of Arts in Humanities with the Business Specialization in 2007 and a Bachelor of Business Administration in Accounting in 2010. He began working with the Children's Home of Lubbock as an accountant from 2007-2014 and with Mike Weiss and Associate in Tax and Audit from 2014-2015. Emmanuel began his work with Ronald McDonald House Charities of the Southwest in 2015 as the Director of Finance and is currently the President and CEO. He was named as a Top 20 under 40 Recipient in 2018.
Emmanuel is married to Christina (Banda, '08) and has two young children, Emma Rose and Christian.
---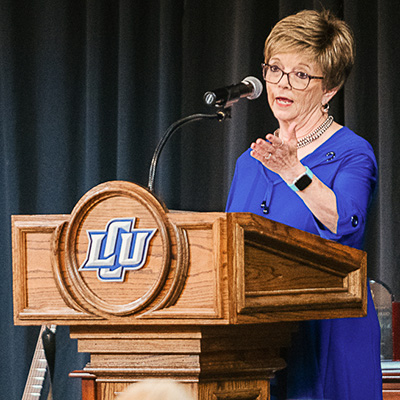 Emily Potts Ratcliff ('72)
F.W. Mattox Award (In recognition of excellence and outstanding service to the University)
Emily graduated from Lubbock Christian College in the first four-year class and received her master's degree from Texas Women's University. She married David Ratliff who is a retired Licensed Professional Counselor with Lubbock Independent School District. Her Daughter, Dr. Mandy Biggers and husband Dr. Carter Biggers live in Denton with their twin sons, Harrison and Palmer, and daughter, Annabelle Joy. Emily's son, Jay Ratliff and his wife, Julia, live in Bryan with their daughters Mariska and Ruby Sue.
Emily worked in public education for 20 years and joined the Lubbock Association of Realtors, Texas Association of Realtors and National Association of Realtors. She was elected President of the Lubbock Association of Realtors in 2000 and was Lubbock Association of Realtors' "Realtor of the year" in 2003. She currently works at Westmark Realtors.
Her servant heart has led her to lead a team ministry for over 17 years that delivered gift items to over 250 families each year who might need a little extra loving care during the holiday seasons. She has served LCU through Community Partnership, Master Follies title sponsor, member of the President's Circle, Athletics, multiple endowed scholarships, Fine Arts, and many other areas starting in 1979. She supports LCU through her business and her attendance at multiple LCU events year-round.
---
George Pendergrass ('82)
K.C. Moser Award (In recognition of excellence and outstanding service to the Kingdom of God)
George started singing at age nine in church choirs and groups in the New York area. By age twelve George was singing at Carnegie Hall as a soloist. He worked with award-winning composer Dennis Bell and continued to develop his craft as a soulful soloist.
George was raised in the Bronx of New York and started his education at the High School of Music & Art. He later graduated from Southwestern Christian College, Lubbock Christian University, and Duquesne University. These are the foundational pillars that developed and shaped his character. George's voice has been heard on a wide range of projects for such well-known recording artists as Vanessa Williams, U-2, Toto, Billy Preston, Sophie B. Hawkins, Michael W. Smith, Faith Hill, Billy Joe Royal, ABC Special Olympics Christmas with the stars, hosted by John Kennedy Jr. and Maria Shriver, Prince of Egypt soundtrack, Paramount movie and Scrooged, to name a few.
Of course, George is best known for his key role with The Acappella Company, where he co-produced several popular albums. His most visible role there, however, was as lead singer for Acappella for seven years. Acappella, in addition, has won numerous awards: Vocal Group of the Year from the Christian Acappella Music Association; nominated for five "Dove Awards" by the Gospel Music Association; and top chart sales from Billboard and CCM Magazine.
 
George presently serves as an associate director for Frontier Fellowship. Where he is finally able to use his artistic experiences with a deep love and passion for cultural diversity and missions.
George has been married to Pamela (Woodbine, '84) for thirty-seven years. He also has a 32-year-old son Jonathan, a daughter-in-law, and two grandchildren.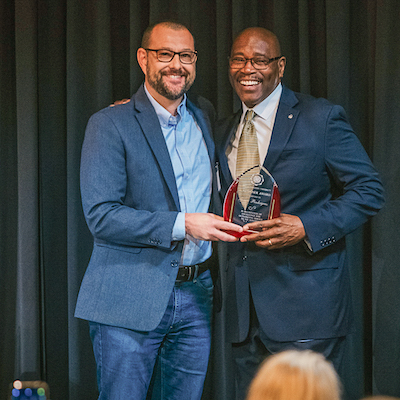 ---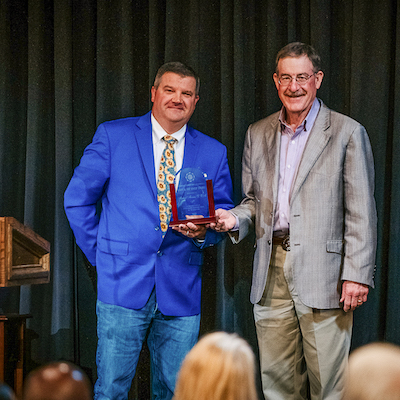 Michael Mimms ('81)
Gary & Pat Estep Award (In recognition of outstanding contributions to the Sciences)
Michael grew up in the community of Lazbuddie, before going on to receive his Bachelor of Science in Animal Science/Pre-Vet in 1981, his Bachelor of Science in Veterinary Science from Texas A&M in 1983, and his Doctor of Veterinary Medicine from Texas A&M in 1985. In the early 1990's he began using ultrasound Technology to evaluate the effects of superovulation protocols on Bovine Embryo Transfer donors. Using the data gained from this technology, and subsequent embryo recovery information, he was able to adjust protocols in a manner that led to successful embryo production in about 96% of embryo donors. With the industry average below 70%, this was significant and led to a near overwhelming number of donors arriving for transplant purposes. Currently he has performed Embryo Transfer procedures on donors from 18 US states including several more with international owners and has become one of the largest privately owned ET facilities in North America.
He has worked at Hamilton County Veterinary Clinic from 1988 to present where his duties are exclusively Bovine Embryo Transfer. He is a member of the American Veterinary Medical Association, American Embryo Transfer Association, and the Society of Theriogenology. He has received the Ross P. Marstellar Award, which is awarded to the top student in Large Animal Clinics. He has been the program speaker at the American Embryo Transfer Association's annual conference and the Canadian Embryo Transfer Association's annual conference.
He has been married to Tamara since 1995 and they have 2 daughters, Macie (21) and current LCU student, Matlin (18).
---
Families of Hardy & Becky Stewart and Bob & Faye Stewart
Family Legacy Award (In recognition of investing in a legacy of influence where life lives on at LCU)
Hardy and Becky Stewart had three children that attended LCU—David ('65), Stephen ('73), and Phillip ('77). Bob and Faye Stewart also had three children that attended LCU—Rob ('80), Randy ('80), and Reisa Stewart Williams ('84).
Hardy and Bob were brothers born and raised in the far east Texas town of Center. From their family, a legacy of 35 children, grandchildren, great-grandchildren, and spouses have attended Lubbock Christian College or Lubbock Christian University. Christian education was important from day one when Hardy began his trek with Lubbock Christian College, first as a parent and then in 1968 as a member of the board of trustees, but he could not have foreseen the future generations of Stewarts to follow to LCU. The first generation spanned the years of 1965-1984, followed by the second generation from 1990-2006, and now a third which started in 2016 and continues to this day.