LCU Class Trips Promote Experiential Learning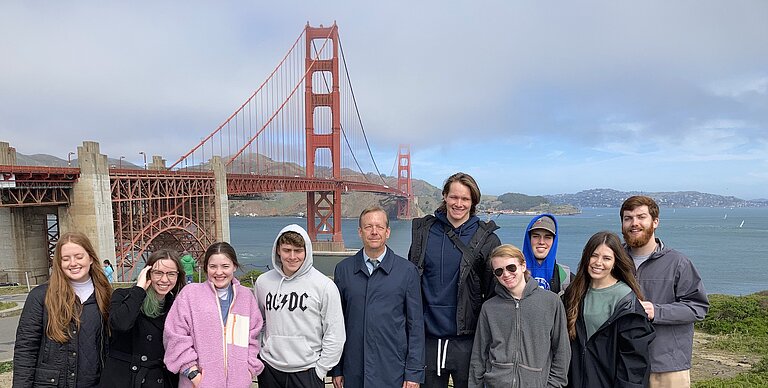 Hands-on, experiential learning for students is at the core of LCU's academic programs. Small class sizes, engaging professors, abundant one-on-one student research opportunities, and even Global Campus's semester in Avila, Spain all promote distinct opportunities for experiential learning—but individual courses tailored specifically to a semester's content are bringing new life to history, culture, and other disciplines across campus.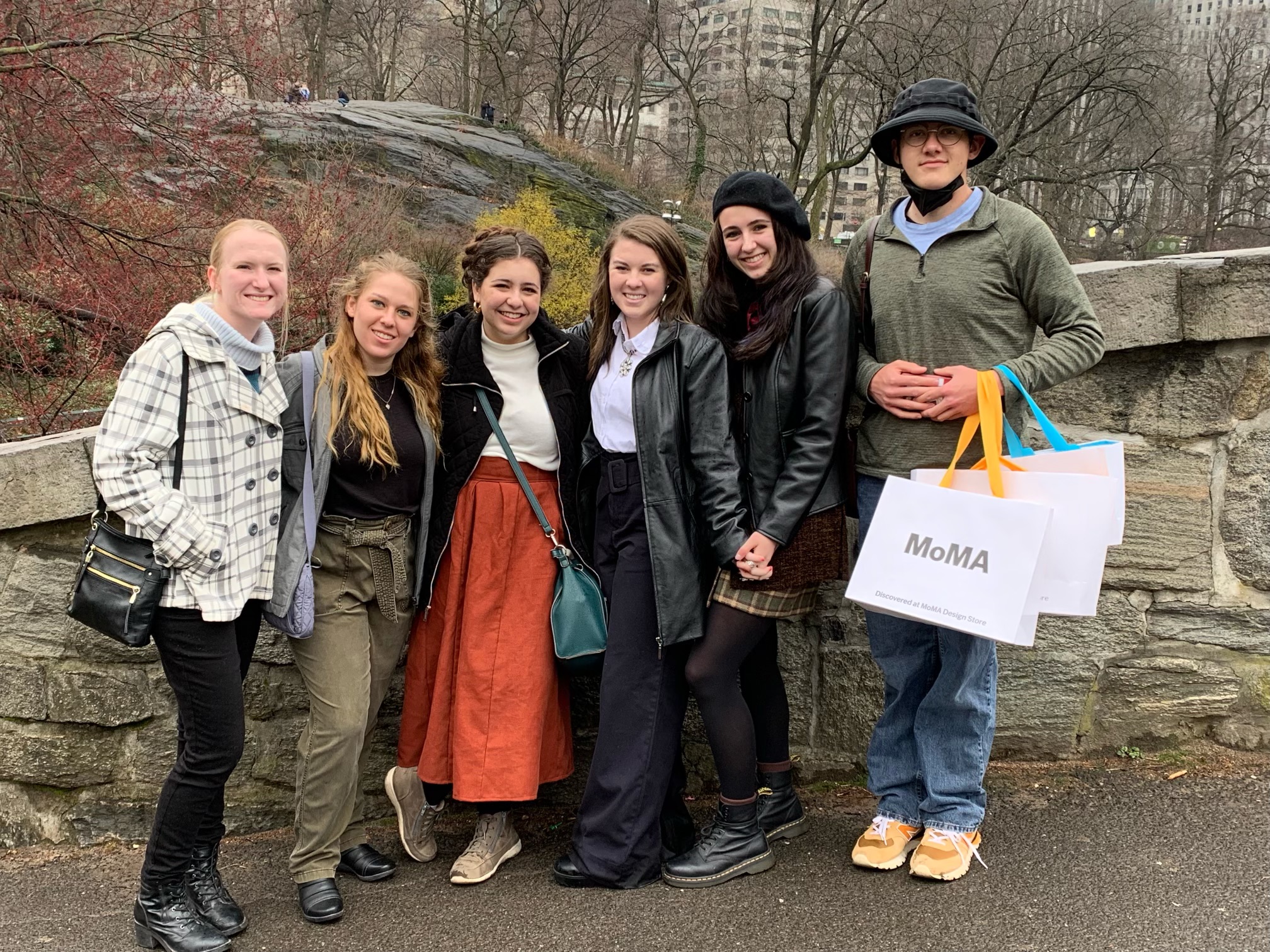 Students from Dr. Doyle's class visited sites across the Big Apple, including staples like Central Park and the Museum of Modern Art.LCU has a long history of travel and experiences in its instruction. The University's choral programs have taken regular trips to such locations as Western Europe, Ukraine, Ireland, and most recently Alaska. Students majoring in teacher education travel to South America and many other students have taken part in medical mission trips around the world. Additionally, LCU's Department of Natural Sciences brings students on ecological research trips to east and central Texas each year.
In the spring of 2022, several professors provided their students the opportunity to travel to different cities across the country as a part of their curriculum. Dr. Laurie Doyle, professor and department chair of the Department of Communication and Fine Arts, brought one of her theatre classes to the Big Apple to experience a behind-the-scenes look at live theater done at the professional level.
"Several theatre students and two sponsors travelled to New York City for four days during Spring Break," she explained. "One of the highlights of the trip was a visit to the Schubert Archive, which houses items from the Schubert Theatres and Organization," Dr. Doyle continued. "The archivists showed the LCU students financial documents, historical programs and posters, costume sketches and costumes, and Tony award statues won by the Schubert Organization, all housed above a working theatre."
LCU Honors College student Kathryn Shipman listed just some the destinations the class visited during their time in New York City. "We got to see four Broadway musicals (Moulin Rouge, Music Man, Tina the Tina Turner Musical, and Hadestown) and one Off-Broadway play (The Play That Goes Wrong)," she shared. "We also visited the Schubert Archives, The Drama Book Shop, the Museum of Modern Art, St. Patrick's Cathedral, the New York Public Library, the Strand bookstore, and Central Park. We had the opportunity the tour the 9/11 Museum and Memorial as well as the One World Observatory.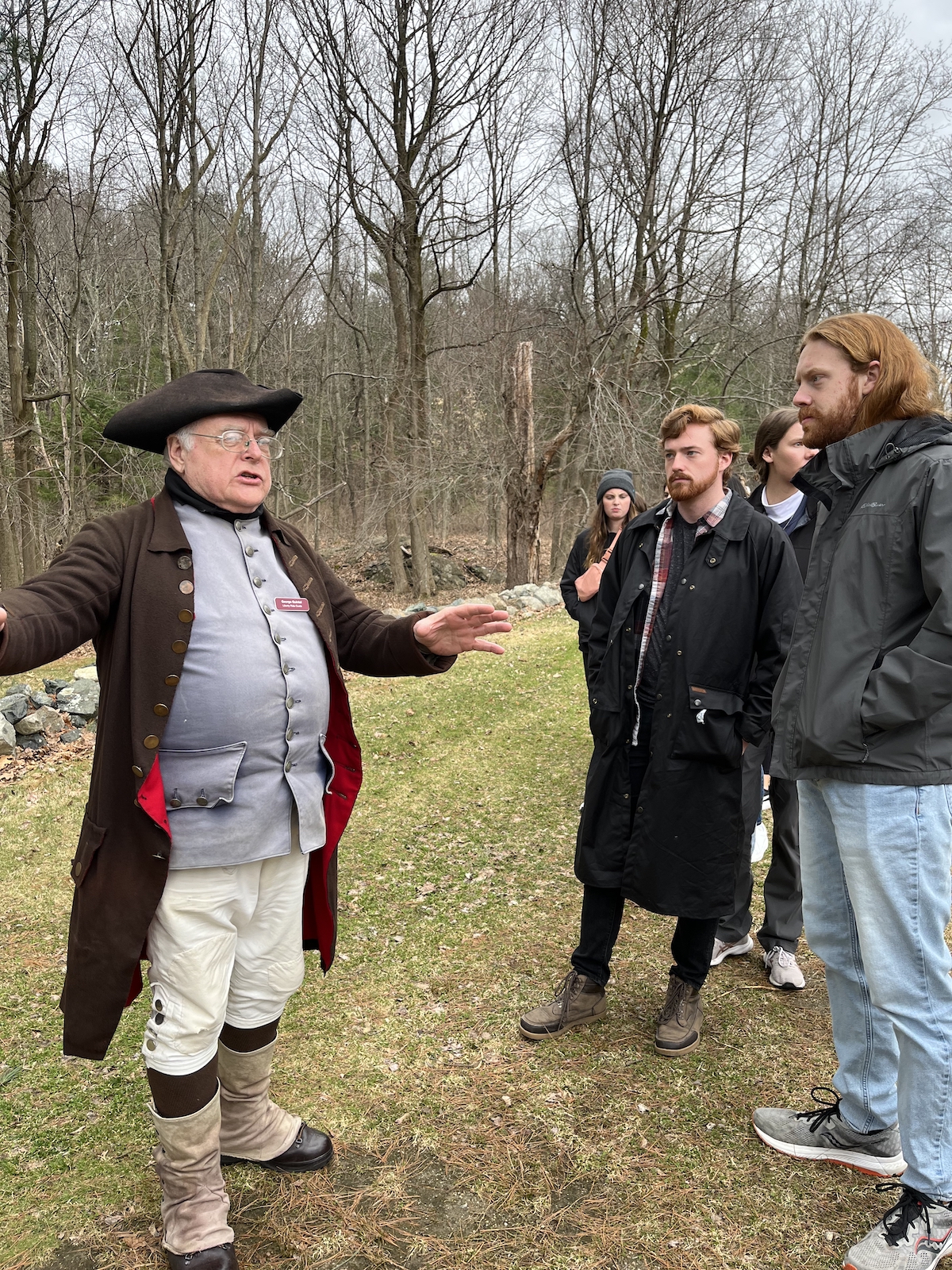 George, the class's guide through parts of Lexington and Concord, made history come alive for students throughout the trip."Beyond theatre, we got to experience New York!" she added. "We walked most places, and it was amazing to feel the energy of the city and see the different people it draws to it."
"With lots of good food, lots of walking, and lots of theatre, it was an outstanding and educational trip," added Dr. Doyle.
Dr. Kregg Fehr, professor of history in the Department of Humanities, has hosted several trips called E Pluribus Unum—an annual opportunity for incoming freshmen to travel through Philadelphia, Gettysburg, and Washington D.C. for course credit before their first college semester has even begun. This spring, Dr. Fehr extended a similar opportunity through two of his classes, with the hopes of bringing history to life.
"I take teaching very seriously," he shared, "and as I listened to students talk about what made the greatest impact on them, they kept talking about going to Spain or going on this trip or that trip and how it reinforced their learning. People learn differently. Not everyone learns by hearing—some learn by seeing, or by doing, or by touching—and I started thinking about how I've been delivering the content of my classes in just one or two ways for my entire career. I saw these trips as another dimension I could add to my teaching."
As that idea coalesced, Dr. Fehr made the choice to take two classes to opposite coasts in the spring of 2022. "My first class, U.S. History since 1877, which is a lower-division honors course, covers a period that many of my students feel like they've studied repeatedly throughout their education." He explained that, because of that familiarity, he decided to focus that course on the west, zeroing in on California as a center of economics and reform. "I decided that San Francisco offered many opportunities for hands-on study for this particular course."
The second class, an upper-division Colonial America course, took off in the opposite direction, headed to Boston. "I built the entire class around Massachusetts in Boston, since that's where we were going. Everyone's heard the story of The Revolution, so I said, 'let's focus on this part of it.'"
That intentionality led to some incredible moments for the students. "There we were, standing where the Battle of Lexington took place," he recalled. "We visited a house where one of the militiamen died in the arms of his wife, and another building where there are bullet holes in the wall still, from over 200 years ago."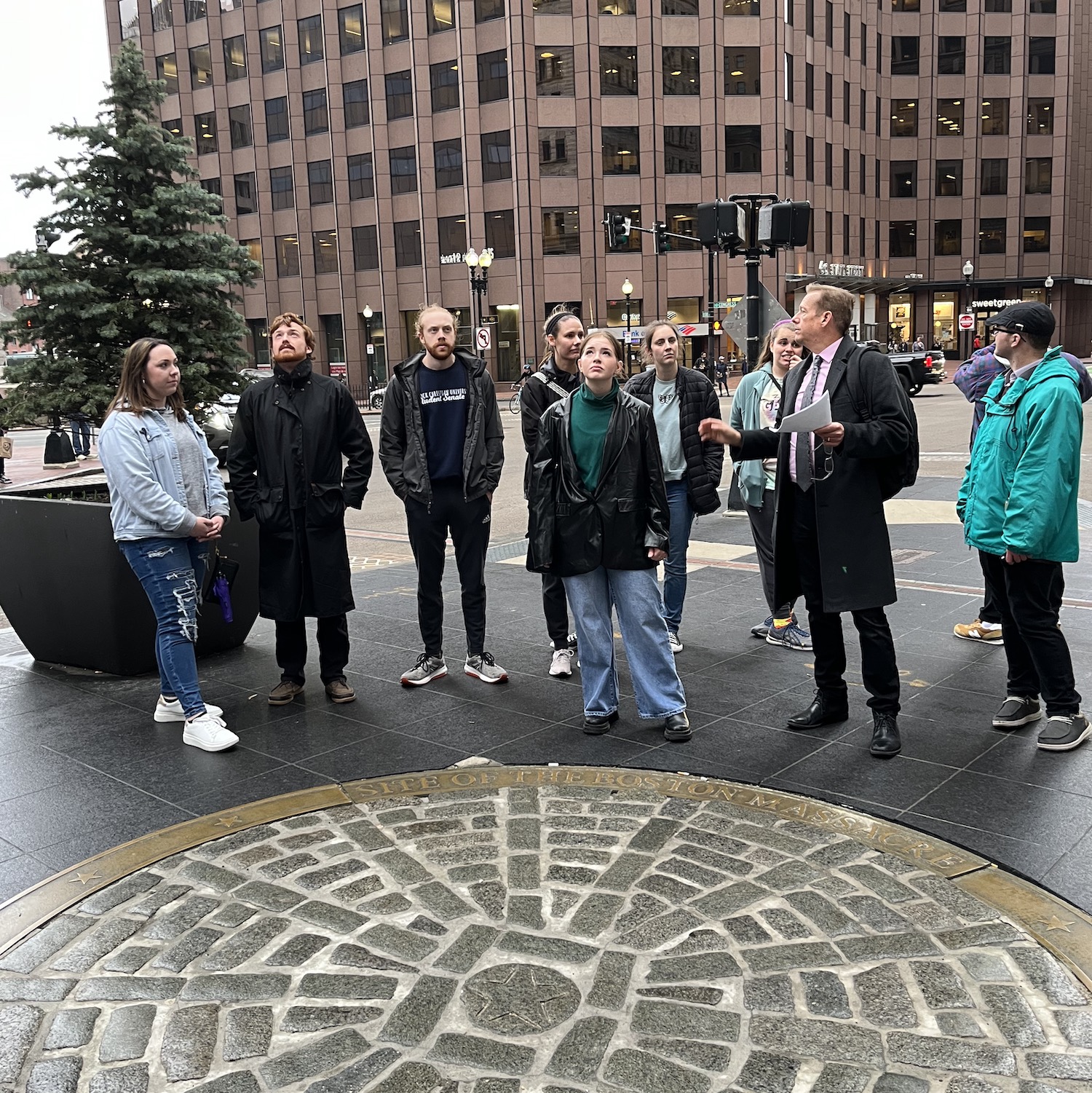 Students found a new appreciation for familiar stories as they visited the actual locations where they occurred, like the historical site of the Boston Massacre.Ja'Nay Settles, an LCU junior pre-vet major, shared the surreal moments where she could soak in the reality of the past. "I remember the history lessons that were taught in the classroom as a young child," she shared. "The fantastical tale of Paul Revere's midnight ride, the tragedy of the Boston Massacre, and the settlement of the thirteen colonies were all amazing stories—but stories were all they were. On the trip to Boston with Dr. Fehr's Colonial America class, we were able to witness firsthand the landmarks and events that had been instilled in us at a young age and reintroduced to us with the lectures from Dr. Fehr."
"This is immersive learning. It's the difference between looking at a picture of a painting in a book and seeing the actual work in an art gallery," Dr. Fehr explained, "where you can see the brushstrokes and consider the time it took to create you immerse yourself in it. We're not just talking about something that happened hundreds of years ago—we're standing in the place where it occurred."
"In Boston, we had a guide, George, for part of the trip, who told us the story of Lexington and Concord and also a little bit about the Siege of Boston," Dr. Fehr shared. "But what was amazing to me was that a couple of days after this, while we were visiting other sites in Boston, the students started putting things together. They were saying, 'Oh, George told us this! And we learned about that over there, and here's this!' They were connecting the dots, and the sequence and impact of events was clearer to them. Suddenly it was more personal—more real."
"As we walked the trail of Paul Revere's ride with his horse Brown Beauty, it was easy to put ourselves in that moment," recalled Settles. "We were able to hear insider accounts of various events such as the Battle of Lexington which began the American Revolutionary War. My heart felt heavy at the thought—where we stood was the very site of so many deaths, and that it all started from a shot that no one knew was coming as our patriots attempted to return home, all so that we could be free, to see British Flags where British soldiers had fallen and graves for those unknown."
Dr. Fehr saw the same experience in his students in San Francisco, and he shared that the students knew enough about some of the events going into it that they were even adding comments themselves or recognizing some things worthy of critique. "We went to Alcatraz, and a bunch of the story of that place wasn't being told. They were saying, 'Well, you know, this is not the whole story here.' The students recognize that, and it was wonderful to see."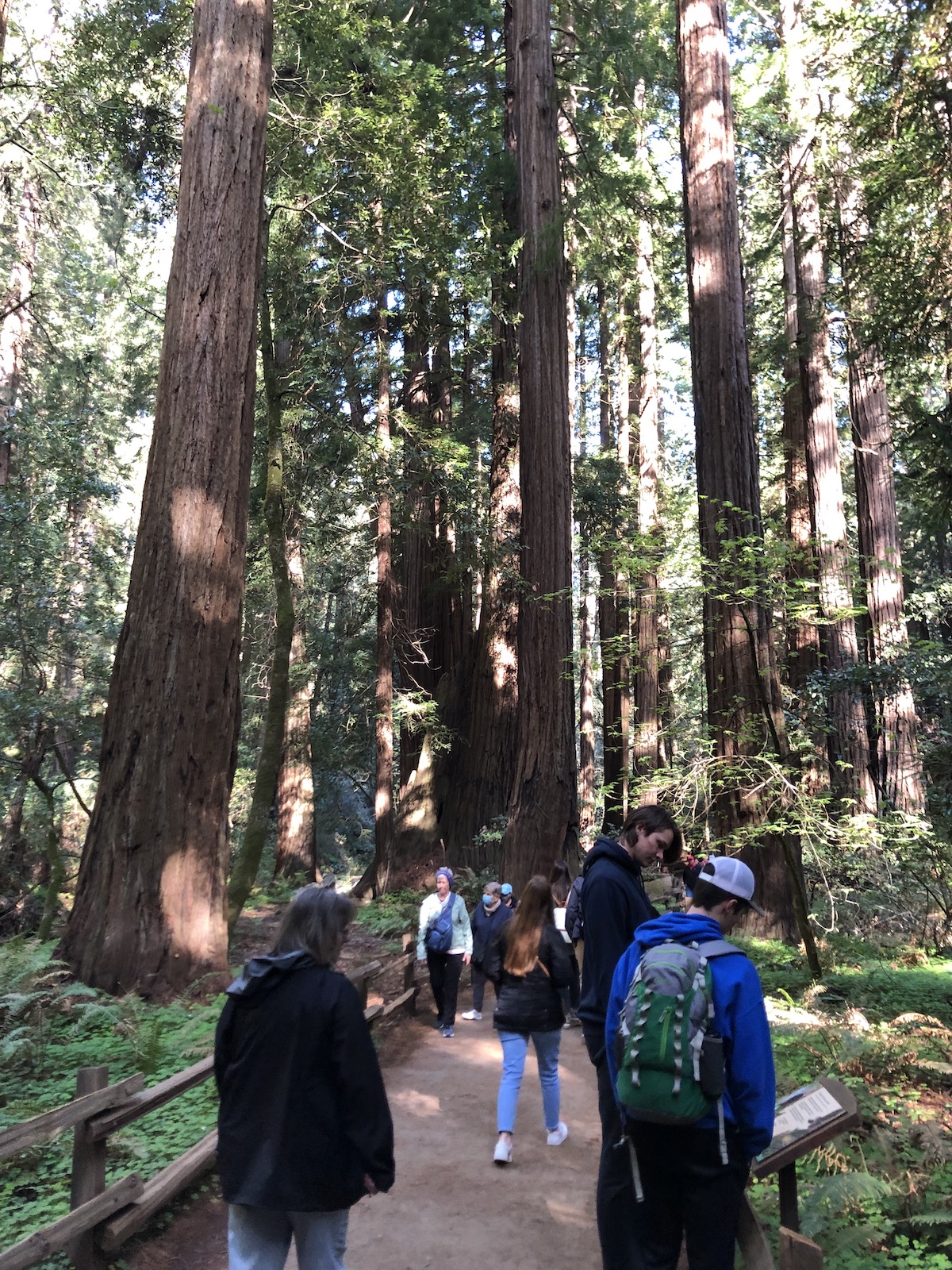 While in California, Dr. Fehr's class was able to visit the John Muir Redwood Forest in between trips to places like Alcatraz, the Golden Gate Bridge, and even Lucasfilm.For each class, he also had the students conduct research related to topics from these areas they would be visiting. "The goal that the students themselves would be able to speak about the places that we were going to, that it wouldn't just be teacher instruction. The hope is that eventually the students will know the material well enough to do most of the teaching themselves and learn from each other."
Dr. Fehr is already planning the trips for several other courses over the next few semesters. "Next spring, we are planning to travel to Bali for the History of Asia class," he explained. "I'll be teaching the U.S. History since 1877 again the next spring, but this time instead of going to San Francisco, we may look at Chicago or New York."
One of the most significant changes that he is excited for in future trips is the prospect of making them interdisciplinary—bringing more than one class on these trips, and showing how different disciplines connect.
"In the fall of 2023, we're looking at combining a geography class and a history class with Dr. Tim Byars and traveling to Seattle," he explained. "We would visit Puget Sound, Mount Rainier, and talk about the history and the geography of that area. Then, in the spring of 2024, I'll be teaching History of Science, while Dr. Keith Owen will be teaching History of England, which opens the door for an overseas trip that would spend several days in both England and Italy. There are so many places that connect to both of those courses—the place where Galileo was forced to recant after talking about the way the universe moves, and even see the house where he was forced to live in the castle; or where Sir Isaac Newton lived and the Royal Society—there are so many possibilities with those courses."
Dr. Fehr added that there is inherent benefit with being able to travel—it allows the students to experience new things together in ways they never could in a classroom. "Even though it's the United States, the United States is big, and has lots of different people—it's a very multiracial, multi-ethnic, multi-religious society, and getting that experience is good for our students. But it's also a chance to let them connect with each other and to have an impact on them as their professor, because it's so much more than a lecture."
To Ja'Nay Settles, that's a big part of why the trip to Boston is one she'll never forget. "When I look back on that trip, I am so thankful for the friendships I made with classmates on the trip and the insight into how much the patriots truly sacrificed to provide us with the freedoms and liberties we have today."