LCU's New Tennis Center Stands as a Testament to Community and Commitment

Lubbock Christian University continues to celebrate its momentum as it adds academic degrees, campus amenities, and programs to its ever-growing student experience. The dedication of the new Penny Gullo Tennis Center and the Jerry and Linda Franklin Clubhouse showcased one of the newest additions to the portfolio—but even beyond its future impact on LCU students, the facility is a reminder of the past relationships and devotion within the LCU community.
The rebirth of the program began as a simple dream in the mind of an alumnus. Jerry Franklin, a 1963 graduate and collegiate tennis player for what was then Lubbock Christian College, championed the effort to bring tennis back to LCU alongside his wife Linda. "As I talked with former players about the historic past, the dream of the future was in our hands," he recalled.
He knew going in that bringing tennis back to LCU was an uphill battle—there were no tennis courts on campus, no program in place, and no full-time coach. "Many were skeptical of the prospects," he admitted, "but thanks to Raymond Richardson, Vice President of University Advancement, and his fabulous staff, we moved forward to raise the money needed to build a complex of eight courts and a locker room and be debt free."
A key part of that success was thanks to the generosity of the Gullo family, which has been integral to the success of many recent initiatives on the LCU campus including the Wayne and Yvonne Hinds Music Center and Fountains on the Mall, among others. Tony and Dolly Gullo chose to honor the memory of their late daughter and her love of the sport by naming the facility the Penny Gullo Tennis Center. While Penny never attended LCU herself, her daughter DeLena (Waldrum) McEwen is a 2000 graduate of the University.


The crowd gathers for the dedication ceremony of the new Penny Gullo Tennis Center and the Jerry and Linda Franklin Clubhouse.
After two-and-a-half years of fundraising, LCU was finally able to break ground on the new complex. "Our mission was to finish the courts so that tennis would start with the beginning of fall semester 2022," Franklin explained. 
"It had been several weeks since I had been on campus, and when we arrived chills ran up and down my spine in excitement of seeing what started out as a dream, now reality," he continued. "On dedication day, it was obvious that supporters, alumni, and tennis greats from all over Texas came to what some called the largest gathering of tennis supporters ever for a court dedication and ceremony," he added, noting estimates that around 250 guests attended the event.
Among those in the audience that day were several members of the Gullo family, including Tony and Dolly, as well as their granddaughter DeLena, who recalled the waves of emotion that day brought.
"It's always a special feeling when I come back to LCU," DeLena shared, "and being there for my mom's dedication was bittersweet. It was a very emotional but happy day. I am so very excited for LCU and their new tennis program."
Zack Galbraith ('00), another alumnus and close friend of DeLena's from their time at LCU, was also in attendance. "The Gullo family has been so generous to LCU, and I love that we get to honor Penny, and her children DeLena and Garrett, by having Penny's name on campus forever. She loved big and was such a huge encouragement to so many—I love knowing that I get to see her name on campus and will be constantly reminded about her when I see the Tennis Center," he shared. "I miss Penny, but I know her legacy lives on in DeLena and the rest of the Gullo family."
The Gullo Tennis Center features eight courts which have been painted a beautiful sky blue surrounded by royal blue outer boundary. The Franklin Clubhouse includes a team room, men's and women's locker rooms, and a coach's office.
Scott Larson, Director of Athletics for LCU, said, "The Penny Gullo Tennis Center as well as the Jerry and Linda Franklin Clubhouse are incredible additions to our campus. We look forward to the return of varsity tennis to LCU in Fall 2022 and the additional student-athletes that will be an integral part of the University's mission. We are excited about becoming a part of the Lubbock tennis community and plan to host a variety of UIL and USTA matches as well as other youth, adult, and community tennis events."
As Larson stated, the new facilities bring with it the return of competitive tennis to LCU, which has not been offered since 1982. Jason Speegle has been hired as the tennis coach for the University. Speegle came to LCU in 2021 after serving nine seasons at Southwestern College (KS). While there he led both the women's and men's tennis programs to multiple title championship tournaments.
"After 3 years of intense working with alumni, tennis patrons, and friends of the University, it was a dream realized," shared Franklin. "It was a dream come true, with long time tennis coaches present, along with Hall of Fame members and family members of deceased who had courts named in their honor."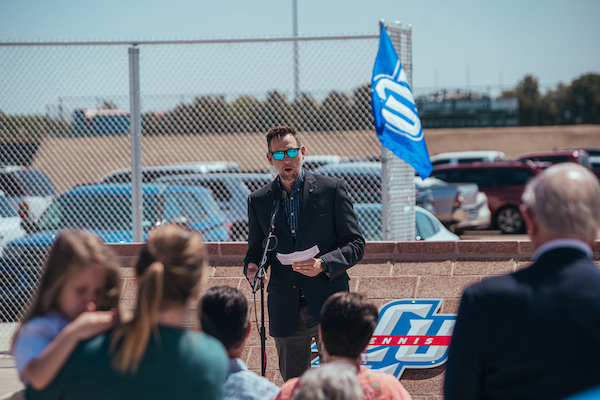 Head Tennis Coach Jason Speegle addresses the crowd at the dedication ceremony.Coach Speegle shared, "It was so exciting to drive by each day and watch as the Penny Gullo Tennis Center and Jerry and Linda Franklin Clubhouse were being constructed. My hope is that LCU will become a hub for tennis in the Lubbock community and that we will be able to host many tournaments, clinics, camps, and other programs that will add a new dimension to the already vibrant LCU campus."
"LCU is one-of-a-kind place," shared McEwen. "While attending LCU I made friendships and memories that I hold close to my heart. LCU was my steppingstone into adulthood, and the lessons I learned while attending are irreplaceable. You'll never meet more kind, loving, faithful servants of God than those at LCU."
Galbraith echoed that sentiment. "LCU plays a huge role in many lives—it's where most graduates met their best friends, spouses, and mentors. LCU helped people like me have a family of believers who became family through Jesus—we get a glimpse of heaven when we look back at our time on campus and it is rekindled every time we step foot back on campus. God is so good to us and one of the best gifts He has given us is relationships and memories of time spent in the company of dear friends that become family."