A Meaningful Promise: We Walk with You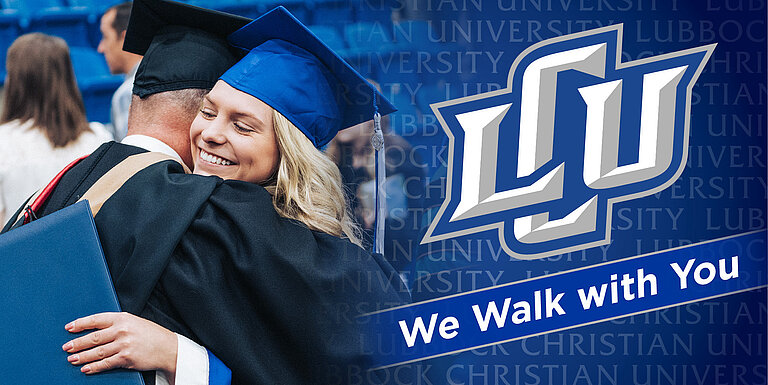 On Super Bowl Sunday each year, there is almost as much hype for and interest in the creativity of the 30-second television spots as there is anticipation for the actual game. Each of the entities who have purchased the airtime during the championship game are seeking to send a message that differentiates them from their competitors, and they spend a great deal of money trying to do so.
The goal of any marketing effort – no matter how large or small, or how expensive or low-cost – is to differentiate one's own identity from another – to improve brand awareness.
The definition of a brand is "what people think of when they hear your name or see your logo."
The LCU brand has grown stronger over time for many reasons, not the least of which is the significant impact the university's alumni are making in their professions, communities, churches, and families.
Frequently heard and commonly articulated sentiments regarding LCU typically resemble the following:
"When I first stepped on campus, it felt like home."
"LCU feels like home because of the people."
"It's the people who make LCU special."
"When I think of LCU, I think of the very special professors who helped to shape me."
A team of LCU faculty and staff spent the last several months working to enhance the clarity of our "brand promise," a value or experience that our students can expect to receive because they choose to get their education with us. The group's goal was to create an "authentic promise that we deliver on, which strengthens our overall value in the mind of our prospective students, prospective parents, alumni, donors, and our community."
The group formulated the broader brand statement, a sentence describing our brand promise:
"At Lubbock Christian University, we promise to walk with you every step of the way on your journey to discovering your purpose, fostering your faith, and achieving your academic goals."
The brand promise is one that we believe resonates perfectly with our Christ-centered identity:
"We Walk with You."
This statement succinctly describes what makes LCU special and what differentiates our university from others, and each word is rich with meaning:
"We" signifies a collective and inclusive approach that includes faculty, staff, and students, coming together to support and walk alongside each individual student.
"Walk" conveys the idea of companionship, guidance, and support, and it implies a shared faith journey, where we actively participate in our students' educational, spiritual, and personal growth – providing guidance, encouragement, and resources on their path to discovering who it is that God has called them to be.
"With" emphasizes that we are in this together. It signifies that LCU is not merely an educational institution where a degree can be obtained, but that we actively participate in the student's journey, being present and engaged in their development.
"You" is the most important part of the statement – it's a promise to OUR students. It emphasizes that we recognize and value each student as an individual with unique dreams, goals, and challenges.