Exploring Faith and Fun: LCU's Summer Camps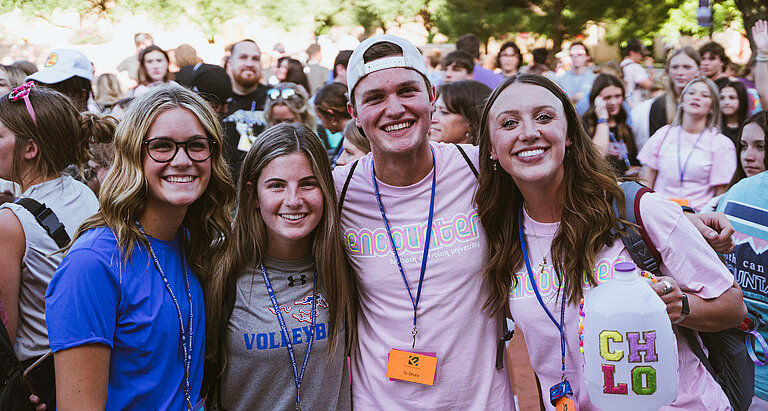 Summer is a time of exploration and growth, and at Lubbock Christian University, this principle extends to our vibrant summer camp offerings. These programs cater to high schoolers, middle schoolers, and even those seeking a serene getaway in the mountains.
"Encounter" is a week-long, high-school-age summer camp brimming with activity and energy, where campers are encouraged to explore and express their faith in an unfailing God. The spiritually focused atmosphere creates a week full of moments to develop a more personal relationship with Christ through classes taught by youth ministers from all over, group worship, and small group time each night followed by entertainment. Additionally, a special time is set aside two times during the week for attending youth groups to gather their group for bonding time.
Designed specifically for middle-schoolers, "Camp Champion" is a dynamic week-long camp designed to nurture their growing faith and help them with the unique struggles facing young teens. Campers describe their experience as an exciting blend of challenging, fun, and encouraging group activities. Participants not only enjoy themselves but also embark on a journey of personal and spiritual growth.
Pine Springs Camp offers a serene retreat nestled in the mountains just outside of Sacramento, New Mexico. Owned and operated by LCU, this camp offers a peaceful escape surrounded by the majestic beauty of the Lincoln National Forest. The towering Ponderosa Pine trees create an awe-inspiring backdrop. LCU collaborates with various churches across Texas and New Mexico to host weekly camp sessions, with dedicated LCU counselors and hired staff.
A common thread among all these camps is the dedication of the counselors. Carefully selected from Lubbock Christian University's student body through an application and interview process, these counselors play a vital role in ensuring a safe and enriching camp experience for every participant. Their commitment to fostering personal and spiritual growth in a supportive environment is integral to the success of the camps.
LCU's summer camps are not just about having fun; they are about growing in faith, building lasting friendships, and creating memories that will last a lifetime.