Summer Musical Includes and Entertains Families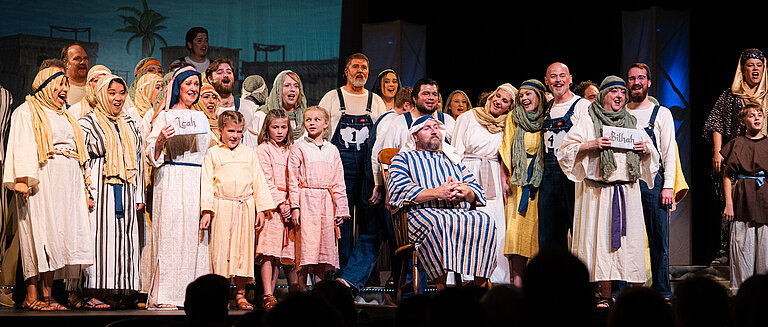 The biblical narrative of Joseph and his brightly colored coat was brought to life this summer as the LCU Theatre Department produced Joseph and the Amazing Technicolor Dreamcoat. With an extremely talented cast of singers, musicians, and performers, the production was staged in the McDonald Moody Auditorium on August 12 and 13 and brought in the largest audience to date for an LCU summer production.
Dr. Laurie Doyle ('82), Department of Communication and Fine Arts Chair and Professor of Fine Arts at LCU, directed the expansive cast consisting of alumni, former students, current students, and friends of the university, who began working on the production in late spring and through the summer. Over 1,000 attended the highly energetic production which received glowing reviews and entertained young children and seasoned adults.
Multiple family units participated in the production and Dr. Doyle commented, "I love the fact that we had three generations of a family on stage together! A grandmother, mom, and son all performed together. Other families had one or two parents and a child in the show. One set of parents had three out of their four children performing.  It really was a family experience."
Based on the Bible's book of Genesis and originating from a cantata written for a school choir,  Joseph is a much-loved family classic. Written in 1968 and featuring lyrics by Tim Rice and music by Andrew Lloyd Webber,  Joseph  features iconic pop and musical theatre classics known around the world such as UK #1 " Any Dream Will Do," "Close Every Door to Me ," and " Go Go Joseph."
Joseph - Joshua Dansby ('17)
Narrators - Rynn (Miller) Day ('08) and Rose Duncan
Pharaoh - Justin Duncan
Potiphar - Ryan Prieto-Davis ('10)
Mrs. Potiphar – Heather (Bundy) Byars ('00)
Jacob - Matt Byars ('00)
Reuben - Tod Towns
Simeon - Jacky Rigney
Levi - Tim Hollis ('10)
Judah - Jeremy Brown
Dan - Justin Perez
Naphtali - Kyle Pace ('18)
Gad - Jack Rigney
Asher - Stephen Elwell ('22)
Issachar - Sean Durham ('23)
Zebulun - Liam Byars 
Benjamin - Gunner Gonzales ('22)
Leah - Donna (Rigney) Hamil ('81)
Bilhah - Kathy (Gossett) Sanderson ('82)
Zilpah - Marian Gossett
Baker - Kelsey Peck ('12)
Butler - April (Daniel) Tryon ('02)
Israelites:
Liz Avery
Julie (Brown) Bartholomew ('04)
Amanda (Cole) Behrends ('11)
Audrey Byars
Sadie Byars
Traci Davidson
Kathie (Meliorism) Davis ('79)
Samuel Duncan
Tami (Goff) Hodnett ('96)
Kim Hooper
Willow Lanham
Beth (Simmons) Lindley ('02)
Norah Lindley
Destiny (Perez) Pace ('17)
Alicia (Abott) Rigney ('09)
April (Daniel) Tryon ('02)
Kaleb Tryon
Adoring Egyptian girls:
Molly Davidson
Desirae (Sarate) Elwell ('22)
Mallory Flores
Micah (Collier) Gonzales ('22)
Tabitha Gregory
Emily Hooper
Bella Johnson
Kelsey Peck ('12)
Kendall Rigney
Elizabeth Stone ('21)