Now in its fourth full year, LCU's premiere full-tuition leadership scholarship—the Cornerstone Scholars—continues to bless exceptional young people throughout their college experience.
Cornerstone Scholars demonstrate leadership through their relational skills, serving as a role model whose influence helps others realize their own full potential. Just as a cornerstone is the pinnacle structural element of a building and Christ the foundation of our faith, the Cornerstone Scholar is an anchor to their community. Steadfast and enduring, their presence is a stabilizing and unifying force to others—providing strength in storms, steadiness in uncertainty, and direction in doubt.
This premiere scholarship program was first imagined and launched by LCU's seventh president, Dr. Scott McDowell, during his first year at the helm in 2020.
"The vision for the cornerstone scholarship aligns strongly with our mission and is to intentionally seed the campus with high-quality students of Christlike character who have a track record of leadership and who will positively impact their peers to be the best version of themselves," he explained.
That first cohort of Cornerstone Scholars are now entering their senior year, and the fourth full cohort began their college journey at LCU last month. Cornerstone Scholars attend weekly mentorship meetings with President McDowell and are also engaged in student leadership development. They also serve as a liaison between the university and its many constituencies, speaking and serving at public events and collaborating with leadership to plan and promote activities across campus.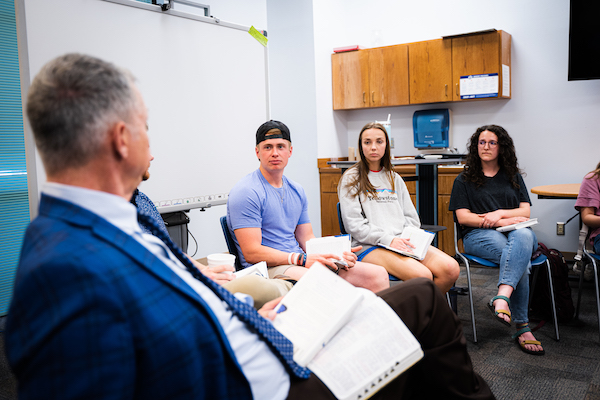 Cornerstone Scholars like Tanner Higgins meet with President McDowell each week."In just the fourth year of the program we have already witnessed incredible success in terms of the way the current group is becoming involved on campus and serving in a variety of leadership roles," President McDowell shared. "We are also beginning to genuinely gel as a group and spending time with these students in our weekly meetings and as they serve in our office and across campus is just plain fun and one of the highlights of my work."
"To say that I am grateful for LCU and the Cornerstone Scholars program would be a huge understatement," said Brigitte Selman, one of the members of the first cohort. "Coming in as freshmen and the first group of Cornerstone Scholars was a little intimidating—I was nervous to see how God was going to challenge me in my faith. My freshman year, we met with President McDowell in his office, where he could mentor us, ask us the hard questions that we were scared to answer, and pull us deeper into our faith in the Lord. This time with President McDowell also gave us an opportunity to ask him questions about faith, the Bible, and just life. I am ever so grateful for that first year when I got to develop personal relationships with the other cornerstone scholars and the President."
"Being a Cornerstone Scholar at LCU has shaped me into a leader and follower of Christ like I could never have imagined," shared Tanner Higgins, another inaugural Cornerstone Scholar. "A student's time in college can be some of the most formative years of their life, and learning how to navigate life away from home can be an extremely challenging task. However, the Cornerstone program and its weekly meetings have provided a constant and stable community where I am guided and pushed to be the best possible version of myself. Through various guest speakers, devotional/leadership books, and discussions with fellow Cornerstone Scholars and President McDowell, I feel extremely confident that I am equipped to be a leader in whatever my future career path holds as I leave Lubbock Christian University in May."
High school students do not apply for this scholarship—instead, they are nominated by non-family adults in their lives such as teachers, counselors, youth ministers, or even coaches. Candidates are chosen based on their commitment to Jesus Christ that is intentionally lived out, a track record of service to others, leadership potential, and relational and interpersonal skills. Once nominated, candidates come to campus in the spring to complete extensive interviews as a part of the selection process.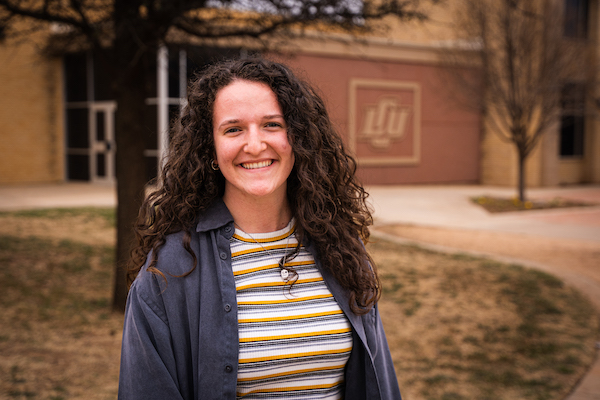 Brigette Selman, an inaugural Cornerstone Scholar, has been a staple on LCU's campus, leading her fellow students—she was even selected as a Master Follies hostess in 2023.Unlike many other scholarships on campus which are funded with endowed scholarship funds, the Cornerstone scholarships are directly sponsored by individual donors. This unique and direct buy-in from generous members of the LCU community not only directly impacts incoming students, but also the vibrancy and health of the LCU student body as a whole.
"I am tremendously grateful for the many donors, who have caught the vision and stepped up to underwrite this program that is really integral to fulfilling the mission of LCU," President McDowell expressed. "Several have sponsored a single scholarship while a foundation has taken on two and one couple has sponsored an entire class. Our donors are authentic partners in our Christ-centered mission of transforming the hearts, minds, and hands of students for lives of purpose and service. We continue to fulfill this mission because they join us in it."
Tanner shared, "The Cornerstone Scholars program has been the biggest blessing in my life during my time in college because of the way it has encouraged me to hone the leadership skills God has blessed me with but also provided a community of Christlike students who have challenged me spiritually."
Brigette agrees and adds that her vision of the Cornerstone Scholars program's future is bright. "Bringing five new students into this program every year has been incredible to witness—God had and still has many things in store for this growing scholarship."
2023-24 Cornerstone Scholars
Tia Moore
Tia Moore is a graduate of North Fork High School in Hotchkiss, CO. During her time in high school, Tia was involved in FFA, student government, National Honor Society, athletics, and band. Moore was also a youth leader and volunteer at Paonia Church of Christ where she helped with weekly meal preparation and leading class for the younger girls. Moore plans to major in exercise science with a pre-physical therapy emphasis at LCU, and later go on to earn her doctorate in physical therapy.
---
Joseph Booe
Joseph Booe graduated from Lubbock High School in Lubbock, TX. In high school, Booe was responsible for starting his school's E-Sports team, where he helped coach players and coordinate team actions to accomplish goals. He was also part of the National Honor Society and Health Occupation Students of America Club. Booe was involved with the youth leadership development team at Melonie Park Church, served as a camp counselor, participated in mission trips, and worked with a hurricane relief team. Booe plans to major in biochemistry with a pre-dental emphasis while at LCU.
---
Rebekah McCord
Rebekah McCord is a graduate of Graham High School in Graham, TX. While in high school, she was active in many organizations including FCA, Blue Crew, National Honor Society, Anchor Club, and Key Club, as well as being a member of the varsity tennis team. McCord is a member of the Eastside Church of Christ and was very active in the youth group, children's ministry, and worship team there. Rebekah plans to major in physical therapy at LCU with a minor in biblical text.
---
Matthew Duvall
Matthew Duvall is a graduate of Tascosa High School in Amarillo, TX. During his time in high school, Duvall served as an Amarillo ISD Superintendent Ambassador, was in the National Honor Society, choir, and orchestra. He also attended Hillside Christian Church and served as a middle school and high school small group leader and was also a volunteer for various mission opportunities with the church. Duvall plans to major in biblical text at LCU and hopes to have a career in ministry.
---
Alexandra Cannone
Alexandra Cannone is a graduate of Granville Christian Academy in Granville, OH. During her time in high school, Cannone participated in the student council and National Honor Society and was part of the Northridge High School swim team. She was also an active member and leader at Foundation Church, Rock City Church, and YoungLife Ministries. Cannone plans to be a pre-vet major at LCU and to one day specialize in large animal/equine medicine.
Know a Candidate to be a Cornerstone Scholar?
If you know a high school senior who you think would be a great fit for the Cornerstone Scholars program, nominations are due December 15, 2023 at 11:59 p.m.
If you're interested in helping fund a Cornerstone Scholarship, contact Raymond Richardson, Vice President of University Advancement at LCU.