Echoes of Transformation: The Tradition of Student Voices at Commencement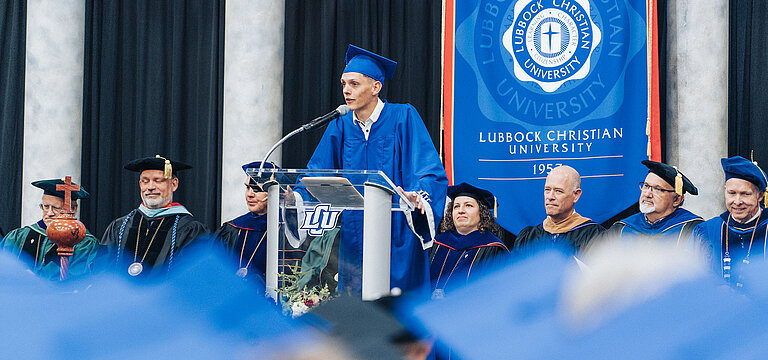 Graduating students are invited to audition for the honor of presenting their thoughts on their LCU experience at commencement. These auditions serve as a platform for students to share their unique perspectives, personal anecdotes, and reflections on their academic journey. The tradition adds a layer to the commencement ceremony, symbolizing the power of voices and stories. It's a testament to the diverse experiences, challenges, triumphs, and growth that each student has encountered throughout their time at Lubbock Christian University. As each student steps onto the stage, they carry with them not just their own stories, but the collective stories of the countless hours spent in lecture halls, the library, late-night study sessions, social activities, and spiritual formation. Their journey is one of perseverance and self-discovery.
Yet, there is another element to this tradition of having a faculty member introduce the student speaker. Through their wisdom, guidance, and unwavering support, faculty leave an indelible mark on students' academic and personal growth and embody the dedication and mentorship that LCU stands for.
The student commencement speaker for May 2023 was Clement Catteau, business major graduating Summa Cum Laude from Halluin, France, introduced by faculty member Matt Bumstead, CEO in Residence in the School of Business.
Speaker Introduction by Matt Bumstead, CEO in Residence in the School of Business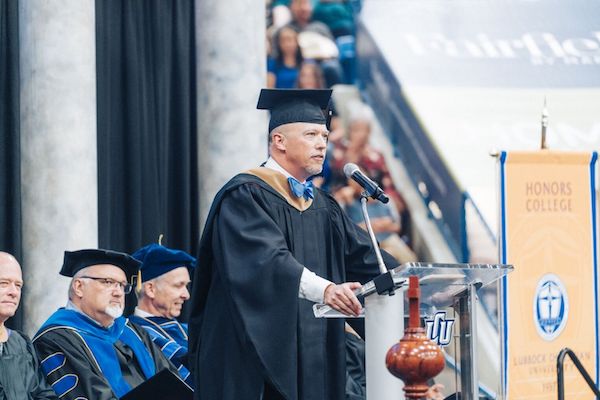 The annual commencement speaker is introduced by Matt Bumtead, CEO in Residence in the School of Business.Mesdames et Messieurs,
J'ai le plaisir de vous presenter le conferencier d'ouverture de cette annee, Clement Catteau. Et bonjour, bievenue, et felicitations de Lubbock, Texas, Madame et Monsieur Catteau!
Or said another way...ladies and gentlemen, I am pleased to introduce this year's commencement speaker, Clement Catteau. And I welcome his parents, who are watching online.
Three years ago, Clem came to the U.S. from Halluin, in northern France, knowing NO English. Today Clem graduates Summa Cum Laude, majoring in Business Administration with a Marketing Emphasis. While clearly distinguishing himself academically, Clem has also served the LCU community with honor as a member of the Chap golf team. Most notably, though, Clem has shown himself to be a man of extraordinary character, love, goodness, and grace, all proceeding from his faith in God through Jesus Christ.
Though understandably fond of his homeland, Clem has embraced America and West Texas with wholehearted admiration and affection that one might not expect from a proud Frenchman. He loves Lubbock and even hopes to remain here. He sought to understand and now enjoys American football. He has embraced some of our less-refined local cuisine. And when tasked with writing about leadership examples in film, he selected not Napoleon or Charles de Gaulle but rather the selfless heroes of Normandy in Saving Private Ryan.
To know Clem is to experience revitalizing encouragement and renewed hope that God still has great plans for this world. His walk with Christ glows with active humility, thoughtful and intentional pursuit, and passionate submission that should inspire even the cynic.
France's Eiffel Tower, Arc de Triomphe, Notre Dame, Loire valley, Mont Blanc, and, well, cuisine...surely, they are all (Chef kiss). But my favorite thing about France...is LCU's own Clem Catteau.
Clem Catteau's Graduation Speech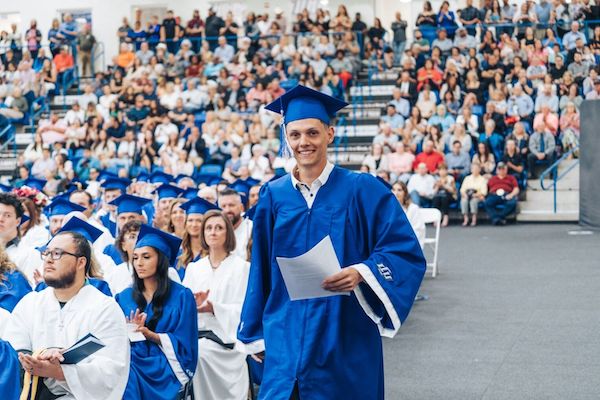 Clement Catteau, who goes simply by Clem came to LCU by way of Halluin, France, was the 2023 Student Commencement Speaker.Good morning, Class of 2023,
It is my honor to stand before you today as we celebrate the culmination of our academic journey. We have spent countless hours studying, researching, writing, and collaborating to be here today. Therefore, I want to start by saying congratulations to each and every one of you for this incredible achievement.
However, the best teaching that LCU gave me was not taught by just one person but by every single one of you. Three and a half years ago, I decided to change my life and live my American Dream, leaving my family, friends, and everything I knew behind. My new journey started in Snyder Texas, not speaking a word of English to play college golf. How ignorant of me. It was not easy, but after a year and a half, I graduated as the outstanding student of the year.
Then I could have gone anywhere in America, but my journey took me to Lubbock Christian University. Where I experienced my second culture shock. Obviously, the first was coming from France to West Texas, and the second was LCU and its culture. I was shocked by how nice and caring everybody was. I was maybe 10000 miles away from my family, but I felt at home here and I think that is the best way to describe my experience at LCU. Being part of a community that cared about me and tried to make me a better person.
I realized that community is about more than just the people around us. It's about the connections we make, the relationships we build, and the impact we have on each other's lives. It's about coming together to share experiences, support each other through challenges, and celebrate our triumphs.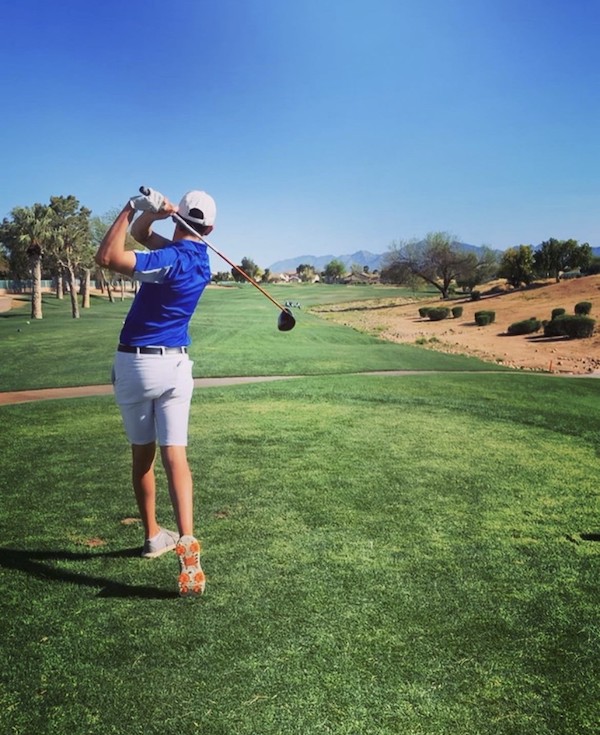 During his time at LCU, Clem was a member of the men's golf team.Throughout your time here, you have been part of a special community—one that has supported you, challenged you, and helped you grow into the person you are today. So it is without a doubt that I can say that LCU and its community have helped me grow in my faith and as a person. Through all the challenges of being a young growing man and an international student, I found someone willing to help, support, and motivate me, and without y'all, I surely wouldn't be here today. Therefore, I want to take this chance to tell my teammates, my friends, and the LCU's staff and community how thankful and grateful I am. Y'all have become my second family.
Moreover, my story is a great reminder that as Christians, we need to be faithful that no matter the ups and downs you may face, it will not always be easy, but He has a plan for you. Trust me, moving to America was never a plan when I was growing up, but the opportunity arose, and I took it. I stayed faithful and fought through every battle with all my heart and strength. And as you move forward, I encourage you to trust in God's plan for your life, and to seek His guidance and wisdom in all that you do. Remember that He has a purpose and a calling for each of your lives, and it's up to you to discover what that is.
As we prepare to enter the next phase of our lives, meaning a new set of challenges, regardless of our individual paths, we must all remember two things. First, the lessons we have learned here (love, compassion, honesty, integrity, humility, forgiveness, and generosity). And two, that we are part of a special community - one that will always be here to support and encourage us, no matter where our journey takes us.
Here at LCU, you have been equipped with the tools and resources to make a difference, and I have no doubt that each and every one of you will go on to achieve great things.
"Que Dieu bénisse chacun de vous dans votre voyage, et que son amour et sa grâce soient toujours avec vous." meaning "May God bless each of you on your journey, and may His love and grace be with you always."
Congratulations, everyone, and best of luck in your future endeavors. Thank you.