Community Partner of the Year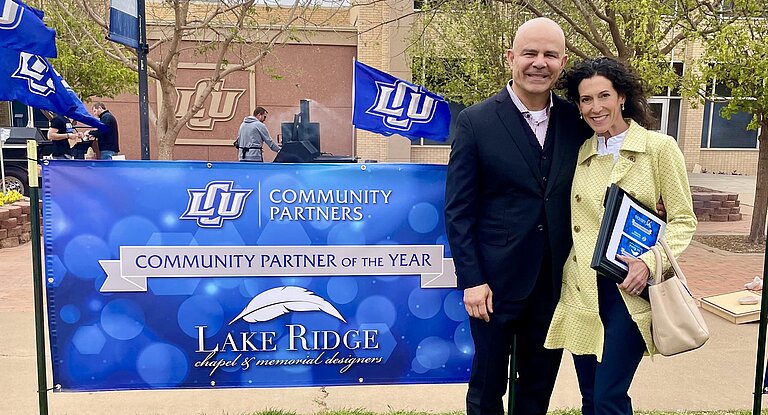 Lubbock Christian University named Lake Ridge Chapel and Memorial Designers as the 2023 LCU Community Partner of the Year for their outstanding support of LCU and the greater Lubbock community. Additionally, SkyGardens has been named the Newcomer of the Year. The winners were announced at an appreciation luncheon hosted by Johnsonville and United Supermarkets.
Santos Moreno, founder of Lake Ridge Chapel and Memorial Designers, knew from a young age his calling was to care for families as they say goodbye to their loved ones. Santos, alongside his wife Valerie, and their tight-knit staff uphold a standard of excellence in everything they do. Their services are built around fostering a sense of community and belonging in every family they serve.
Lake Ridge Chapel has been an LCU Community Partner since 2020. Moreno shared, "It's a passion of mine and Valerie's to give to the community, to support the community, and to give to those that need a hand up. And to bless as many people as we can with the charities and things that we can provide funds and resources to."

SkyGardens was recognized as the Community Partner Newcomer of the Year.The Community Partners program is an initiative developed to strengthen relationships between Lubbock Christian University and local businesses. These businesses are invited to partner with LCU in a mutually beneficial relationship that provides growth in community endeavors and future opportunities. The Community Partner of the Year Award, presented annually, is chosen from over 100 LCU Community Partners for their engagement and support of the LCU community.
Lisa Fraze, Director of Alumni and Community Relations at LCU, shared the following, "Lake Ridge Chapel and Memorial Designers have supported our students and the LCU community for many years. Santos and Valerie Moreno are champions in the Lubbock community and have poured into our students year after year. We are so grateful for their partnership."
Community Partner Newcomer of the Year is SkyGardens, a flower farm serving Lubbock and the surrounding area run by Skyler Richardson. They offer fresh flowers throughout the year as well as beautiful wreaths and garland made with Christmas greenery in the winter.
Raymond Richardson, Vice President for University Advancement, said, "SkyGardens is a relatively new business owned and operated by Skyler Richardson, an LCU alumna. Skyler was an amazing leader and student on the LCU campus, and she has transitioned that work ethic into her new business. She has been relentless in her generosity of involvement on campus with LCU's staff and faculty. She is always providing her flowers with a smile on her face and a sweet spirit that flows out of her love for LCU."
Skyler Richardson shared, "This LCU community has poured into me and my business. Being able to come back as a community partner is just awesome. I'm grateful to be a part of what they're doing and to help LCU in any way I can."