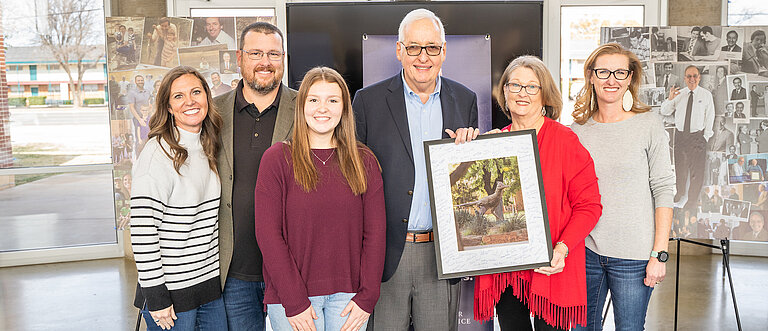 John King retired from his life's work of promoting, recruiting, and raising funds for Lubbock Christian University in December of 2022. His 52-year LCU legacy spanned almost all the decades of the university's existence, and up until his retirement, he was only one of three individuals who had worked for all seven of LCU's presidents; Don Williams and Rod Blackwood are the other two.
John King was 12 years old on his first visit to the campus of Lubbock Christian College in 1958. His mother, who was the church secretary at their congregation in El Paso, attended a conference for church secretaries hosted by the college. Later during his teenage years, John was a camper at Pine Springs, and he remembers Dr. Ken Rhodes, who was dean of students at the time, recruiting students at the camp in New Mexico using a slide projector and a portable screen.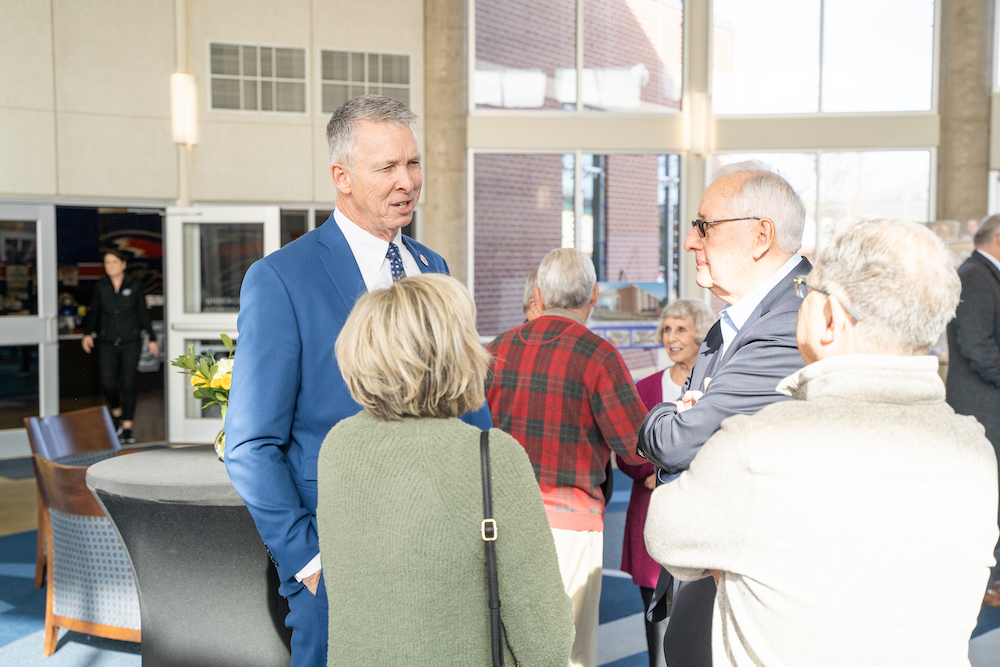 At John's retirement ceremony, LCU President Dr. Scott McDowell lauded his contributions to the university over the decades. After graduating from high school, John and several others from his church decided to attend the new, two-year junior college. In his second year, John was elected Student Body President and voted Mr. LCC. John graduated in May of 1968 and went to Harding to complete his bachelor's degree. While there, Elaine Mitchell, a fellow student at Harding, caught his eye and his heart. John finished his bachelor's degree, and he was persuaded by Mike Myers ('65), Director of Recruiting, to come back to Lubbock to work in admissions recruiting students. Elaine followed him back to Lubbock and they married, with plans for them to stay in Lubbock two years so Elaine ('72) could finish her degree. Their plan to stay at LCU for two years turned into 52 years – a decision that blessed both the King family and LCU immeasurably more than anyone could have imagined.
It was 1970 when John King began as an Admissions Counselor. Three years later, John's fruitful work was rewarded with an advancement into the position of Director of Admissions. John realized that to effectively sell the college to more people, some things would have to change. One of his first initiatives was to form a band, the Hard Travelers, that would literally take the LCU show on the road and get in front of college bound teens in engaging ways. The group, typically comprised of three guys who could sing and play a variety of instruments, would cover popular songs of the day. James Hobbs ('75), who would later form the very successful Flying J Wranglers, freely tells all who ask that he got into show business because of LCU, its chorus, and John King's invitation to join an aspiring college band that entertained teenagers and told the Lubbock Christian University story. "We travelled a lot, and we worked hard, but I still remember John's sense of humor kicking in and making things fun," recalled James Hobbs as he learned that hard work was essential to get successful results.
During the decade of the 70s, LCC's administrators made the decision to move to senior college status, a transition that impacted the whole campus. John King was now recruiting students to a four-year campus-experience. In true John King, creative fashion, he enlisted the help of faculty members Drs. Don Williams ('63) and June Bearden to create a reader's theater story about the college. This student reader's theater group presentation was synchronized with the three slide projectors to present visual images – very high tech for that time. John took this group all over the region surrounding Lubbock.
But going out to the people was not enough. Those people had to be drawn to the campus, and John knew that the college needed something special to make that happen. Thus, he helped to re-engineer what had been Youth Lectureship into the highly successful Encounter Camp for high school students, and he instituted Camp Champion for middle schoolers. These two camps would become the marquee college campus-based youth camps within our fellowship. In the decades to come, thousands of young people from churches of Christ would be drawn to the Lubbock Christian University campus to fellowship and learn from the most creative youth ministers in our tradition. LCU was now on the map.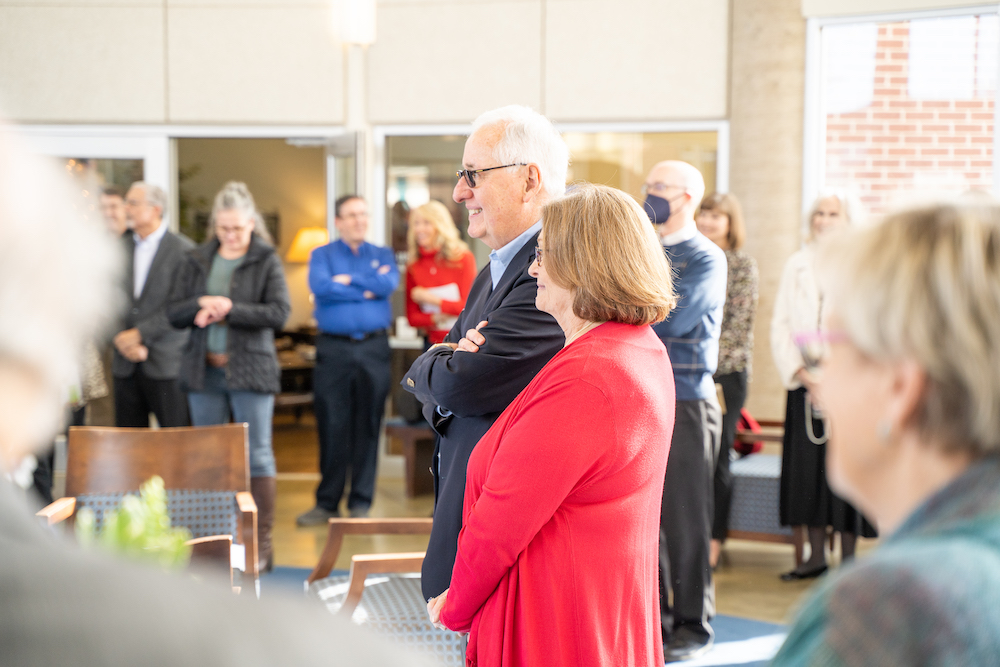 At John's retirement reception, colleagues, family, and friends from across LCU and the South Plains came to honor his historic contributions to LCU's mission.During the late 80s, John worked with Ray and Billie Pectol to create Impact, a camp for senior adults. These groups of senior adults came back year after year, enjoying the friendships they established with each other and with the university. It was through the relationships built through Impact that several large gifts were given to LCU.
A true lover of Christian camps, John was summoned to help rebuild the Pine Springs camp after many of its facilities were destroyed by fire in 1989. That camp now serves over a thousand guests each summer, including youth groups from some of the largest congregations in churches of Christ. You will see the King family name on the magnificent chapel at camp, but his rich legacy is woven into every structure on the whole campsite. He served as Chair of the Pine Springs Board for over three decades. It was while he was Chair that a pivotal land swap was negotiated with the Lincoln National Forest, positioning Pine Springs Camp for a bright future. With the helpful influence of Jerry Harris, LCU Board Chair at the time, the Pine Springs Camp Land Exchange Act was approved by the U.S. Congress in 2006.
Josh Stephens ('00), Dean of Students and Director of LCU Summer Camps, commented about the impact of John King through the LCU summer camp experience. "As amazing as these camps have become under John's tutelage, the greatest lesson I learned from John had nothing to do with the camp brand or property.  John has always seen LCU summer camps as a tool the Lord uses to impact the hearts, minds, and lives of teens.  This has been John's mission for years and it will be part of his legacy.  Because of John's love for Jesus and his desire to share Christ with others, countless lives have been blessed because of John's efforts." 
John eventually moved from admissions into Alumni Relations, and then ultimately, into University Relations and Advancement, leading both of those teams for a number of years and serving on the executive leadership team for the university. He has made innumerable friends for the university and was instrumental in raising the requisite funds for such buildings as the Nursing and Mathematics Building (now the home of Social Work and Criminal Justice), the Rip Griffin Center, the extensive renovation of the McDonald Moody Auditorium, the Ling Center for Student Success, the Cardwell Welcome Center, and the James and Jeanette Ling Science Center. His work was critical in reshaping the physical campus of Lubbock Christian University.
"John King is responsible for so much of the good that has been possible at LCU through his friend-raising and fundraising, yet he never insisted on getting the credit," shared former LCU President Tim Perrin ('84). "He came to LCU for two years and stayed for a lifetime. Fifty-two years of devoted service. Thousands of hours spent on the road, sharing the LCU story. An untold number of deep connections with LCU friends and alumni."
John received national recognition for his work with Encounter, Champion, and Pine Springs, as well as his service to churches, and he was presented the Big Don Williams Lighthouse Award by the National Conference on Youth Ministries in 2018 for his lifetime of work with youth.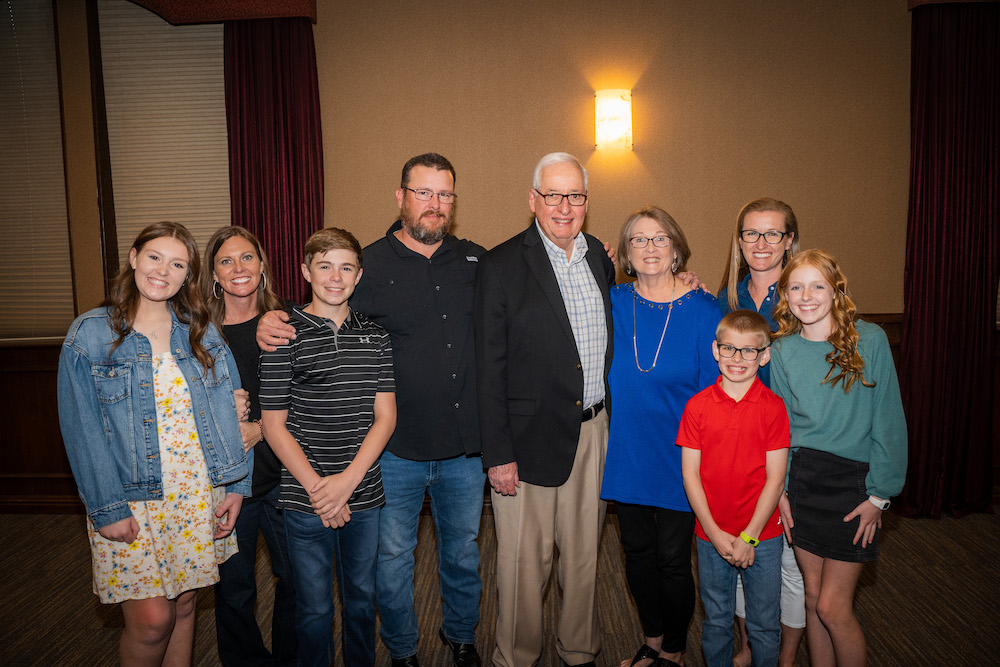 Through the years, John's family were a big part of his LCU career.Yet, at the end of the day, John would not want to be evaluated in any scale less than that of the way in which he touched lives for the sake of the Kingdom of God. Noted for his kindness, the breadth of his knowledge of people, his photography skills, his willingness to serve in any way needed and to be a friend to everyone, John is a beautiful exemplar of the love of God and the servant heart of Christ. As James Hobbs wrote, "you have spent a lifetime committed to an idea, an organization, and a family, in an effort to impact people's lives." We praise God that tens of thousands of people know Jesus better because of the work John King has rendered in service to our Lord at Lubbock Christian University.
"I count it an extraordinary privilege that I had the opportunity to serve alongside John and to witness up close his authentic faith, his deep wisdom, and his genuine care for others," continued Tim Perrin. "John and Elaine truly caught the vision from F.W. Mattox and have worked with purpose and diligence to keep it alive, fanning that flame for more than 50 years. We all owe John a huge debt of gratitude."