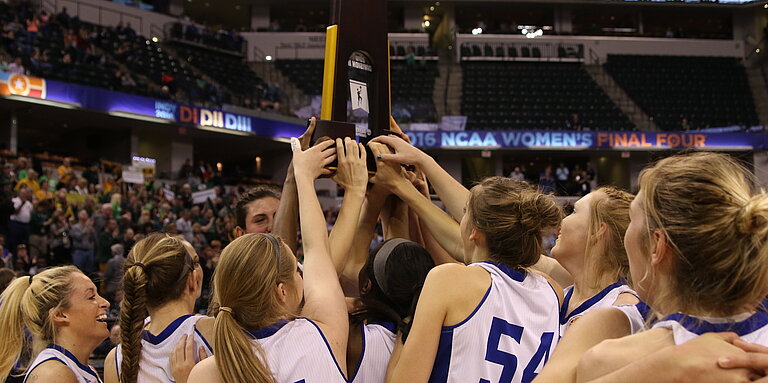 The Rip Griffin Center, home to Lubbock Christian University's men's and women's basketball and volleyball teams, is a special place. The $4.2 million, 1950-seat arena opened in 2000 and is named in honor of former LCU board member Bobbie Ray "Rip" Griffin. The center has hosted elaborate dinners, concerts, camps, commencement ceremonies, and of course, countless athletic contests. But perhaps the most notable achievement among the storied programs that call this arena home is the 113-game winning streak it saw from the Lady Chap basketball team that spanned most of a decade—a record that leads all of NCAA Division I and II.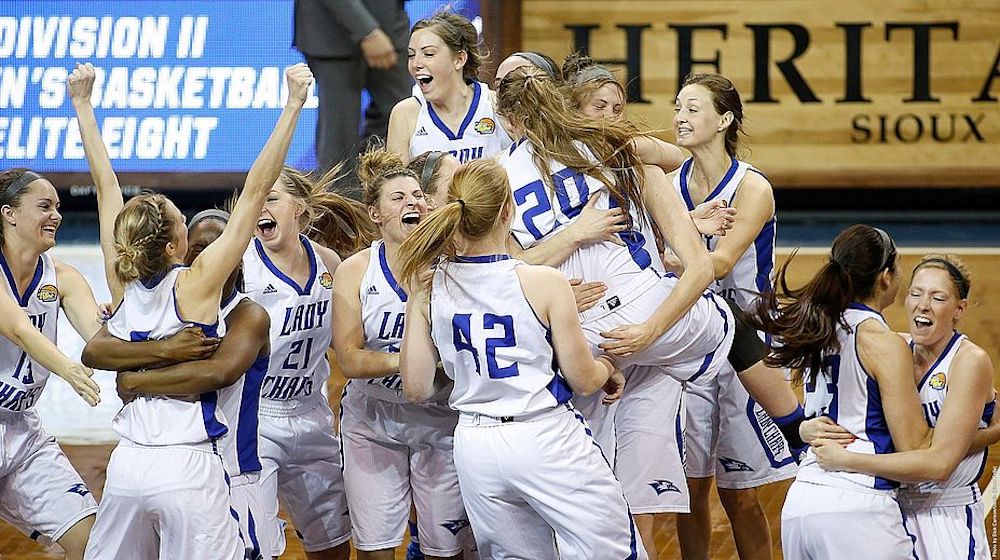 One of the first milestones during the streak came when LCU secured their first DII National Title in 2016.Going undefeated for any stretch of games in collegiate basketball is a difficult feat. In any national title game, commentary often focuses on the teams' hottest win streaks of the season. On rare, special occasions, that streak will have lasted throughout the entire season. This monumental streak, however, stretched over the course of nine separate seasons for the Lady Chaps. After a close loss on the first day of 2015, the women's basketball teams did not lose a home contest until a three-point loss against conference rival Angelo State University on February 2, 2023. The previous Division II record, a mark of 87 wins set by legendary program Nebraska-Kearny in 2001, was eclipsed during the Lady Chaps' most recent run to a national title in 2021.
For Head Coach Steve Gomez ('88), the focus was never on the record. "For years, we've always had the mentality that we simply want to go 1-and-0 today," he explained. "In a couple of seasons, we've happened to go undefeated the whole way—but to win that many times in a row at home, it's just not normal. We never even thought about it. We just showed up, played, and won."
The streak was punctuated by dozens of memorable moments; both Coach Gomez and Coach Vic Self, former Monterey High School head coach and Gomez's longtime assistant, immediately recalled numerous games that stuck out among the 113 victories.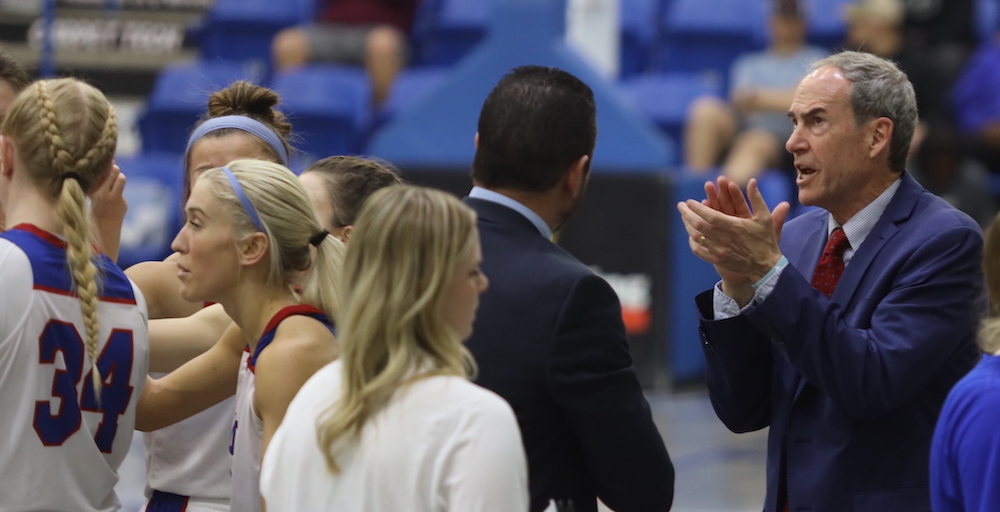 Coach Vic Self has been a major part of the Lady Chaps' success for over a decade."There were so many pivotal-moment games—I think of the Angelo State regional game here," Coach Gomez shared, referring to the team's 61-59 victory in the 2019 Regional Semifinal matchup. "I think we were down by four points with something like 30 seconds left, and in that game, everything had to go right for us and wrong for them in order for us to win. And I think of the Lander game a couple of years ago—I think they were the top team in the country at that time, and we went 30 of 31 from the free throw line to win. When you think about just how good so many teams are today, it just doesn't make sense of how we won that many games in a row—so many times things had to go really well."
Coach Self recalled, "I go back to a St. Edward's game here at the end of the 2017 regular season. It was tied, and they had the ball with about 12 seconds to go and were going to have a chance to get the last shot off. They weren't in the bonus, so we kept fouling them before they could shoot, and we ended up going to overtime and winning that game. But just like Steve said, so many things happened to go our way."
Another moment that stood out to Coach Gomez was in 2020, the year following their second NCAA Division II National Title. "We were getting ready for practice the day before we would be hosting the regional tournament, and I remember watching our Athletic Director Scott Larson come down to the court," he recalled. "He just told us, 'Well, it's all called off.' We were right here in our gym in the middle of this streak, thinking that we were going to have a chance to win a regional at home again and maybe even make it back to a championship. And instead, we ended up just playing a game of kickball for the next 30 minutes and laughing and having fun because that was it—that was the end of the season. But to me, it was an important moment; in that stretch of time when things were happening out of our control, we just found ways to deal with them."
To both coaches, the home atmosphere in the Rip Griffin Center is uniquely special.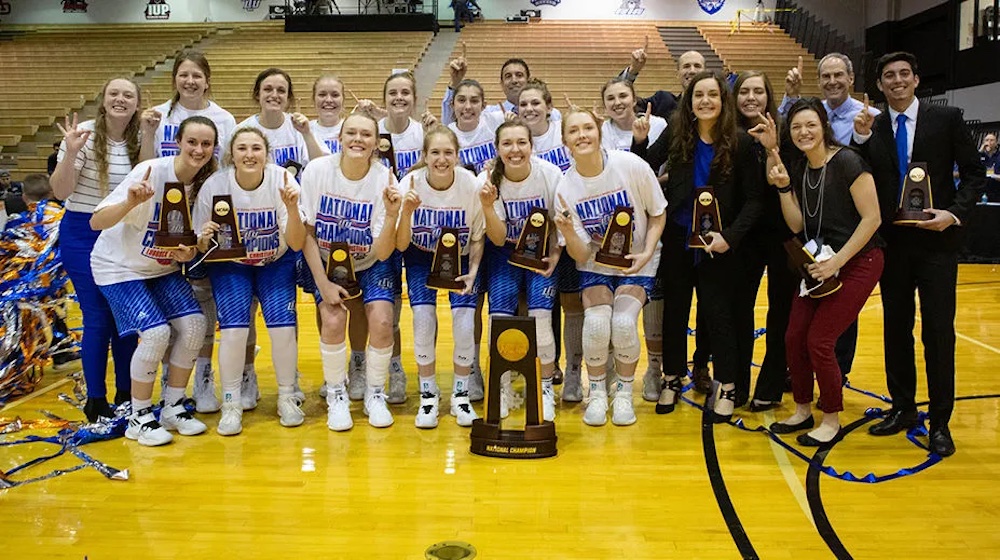 LCU's second DII National Title came in 2019 by way of a double-overtime thriller."When I think over the years—the environment here, the band, the home support—we have such a good community," continued Coach Gomez. "It's not just LCU people who come to watch, either. Because we have a lot of regional players, they have family and high school buddies who come back to watch them play. We've always had a good homecourt environment. It's not magic, like if we just play here, we win," he added, "but it's always provided us with a good, comfortable place to play."
The 113-game winning streak is littered with impressive statistics.
During the nine-season span, LCU would move from NAIA to Division II of the NCAA, win multiple national championships, and post some incredible numbers. Over the stretch, the Lady Chaps went 10-0 at home against nationally-ranked opponents and were ranked the number 1 team in the country multiple times themselves.
The Lady Chaps have made deep runs in the postseason in every season they've competed in Division II and hold an impressive all-time Elite Eight record of 20-1.
In 2016 (the team's first season in NCAA Division II) they went 35-0 to win their first national title against the University of Alaska at Anchorage.
They would reclaim the championship in 2019 by way of the only double-overtime title game in Division II history in which they defeated Southwestern Oklahoma State 95-85 in Columbus, Ohio.
In 2021, the team fought their way to become the only program to ever complete two undefeated seasons as they claimed their third Division II title in five tournaments.
Several notable numbers stand out from the win streak:
The most points in a home game came during the 2016 regional tournament when the Lady Chaps outscored the Angelo State Rambelles 101-72 enroute to their first national championship.
Their lowest-scoring win came during the most recent season when the Lady Chaps prevailed by a score of 51-38 against Western Colorado.
The widest margin of victory came in 2019 when the Lady Chaps held Texas A&M International to just 19 points while they put up 88, winning by a staggering 69-point margin.
The most points scored at home by a Lady Chap came on two separate occasions by, who put up 30 points twice in 2017.
Six different LCU players have been named All-Americans during the run, for a total of nine selections: Tess Bruffey (2015-16, 2016-17, 2017-18), Nicole Hampton (2016-17), Maddi Chitsey (2019-2020), Emma Middleton (2020-21), Allie Shulte (2020-21, 2021-22), and Grace Foster (2022-23).
Several individual student-athlete career records were set during the streak as well:
Nicole Hampton's career marks for points scored (1,796), rebounds (1,053), assists (659), steals (330), and free-throw percentage (91.1%) still stand from 2016.
In 2022, Ashton Duncan set the program record for three-pointers attempted (708) and three-pointers made (276), while Allie Shulte set the career three-point percentage mark (44.4%).
Tess Bruffey holds the program mark for blocked shots (396).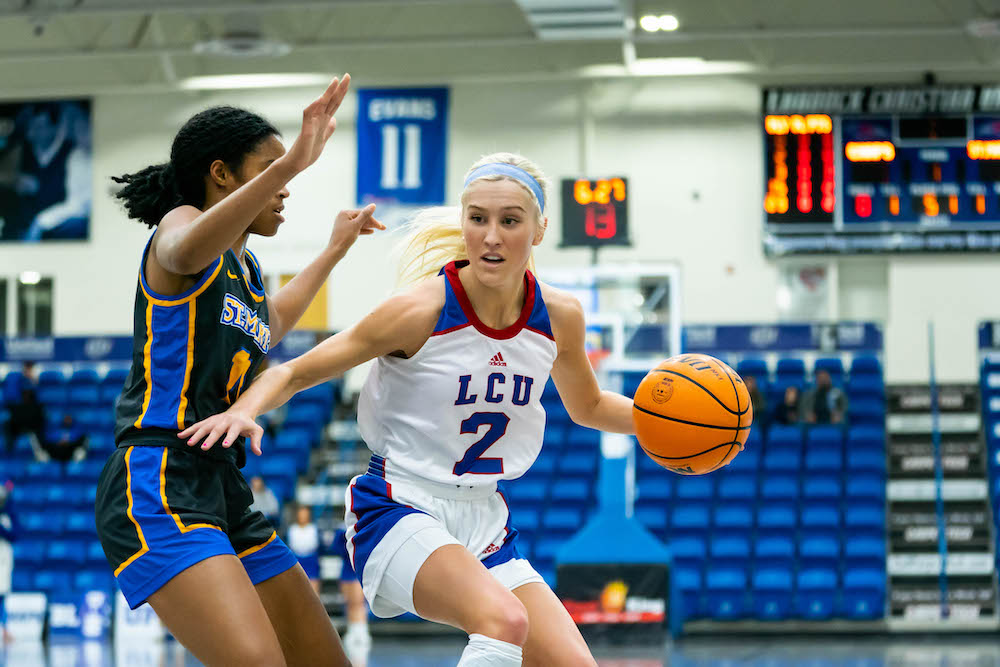 LCU's 2023 season continued the tradition of excellence, as the team drove three rounds into the national tournament.LCU's success during the streak even netted them battles against elite NCAA Division I schools, including a historic matchup against perhaps the most dominant team in the history of women's basketball: the 2016 University of Connecticut Huskies. At first glance, the lopsided 95-39 win by the Huskies may look deflating, but LCU actually fared better in that game than the team UCONN would eventually wallop in the Division I Sweet Sixteen on the way to their own national title. The Lady Chaps have also opened seasons with close games against DI powerhouses like then-No. 15 University of Texas (to whom they only lost by 10 points) and then-top-ranked Baylor University.
But it has never been about the numbers for Coach Gomez or the Lady Chaps.
"It's always been who you get to be and who you get to work with that makes it such a joy," Gomez shared. "It's one of the things you just can't explain to people. I'm so thankful that it's more than just basketball—these are good kids. I love to hear people say that they come to a game just to watch the bench, to watch our players, how enthusiastic and team-minded they are—even the kids that aren't playing the game. Those relationships, those moments, they're really important."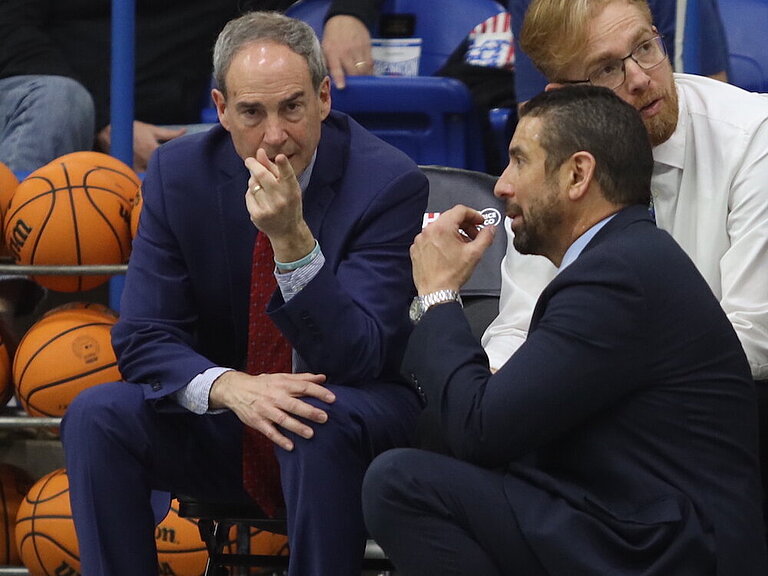 Coach Vic Self, who has stood beside Coach Gomez through the last 12 seasons of Lady Chap Basketball, announced his retirement following the 2022-23 season. Coach Self was recognized at halftime of senior day on February 25, 2023.
Vic Self attended LCU from 1979-81, where he played basketball and tennis. After finishing his playing career, Self stayed with the Chaps as an assistant coach to John Copeland before going on to coach for many years at the high school level. At Monterey High School, where he coached men's basketball for more than 20 years, Coach Self compiled a 416-237 record, four district titles and 13 playoff appearances. In eight of those playoffs, he was joined by Steve Gomez, who served as his assistant before taking on his own coaching position. In 2011, Coach Self joined the LCU women's basketball coaching staff, this time as Steve Gomez's assistant.
"I've worked alongside Coach Self for 20 of my 35 years of coaching," shared Coach Gomez, "and it's just been amazing. That's such a long time, but he's just so easy to work with. When I came out of college and was starting my own career, I didn't have a clue what I was doing. When he brought me on as his assistant, I learned so much. Goodness, even the last few games of this season, 35 years later, he's still pointing things out all the time. His influence has been massive," he added, "just so helpful. The girls we've coached have gained so much from having his wisdom, his steady influence around."
Coach Self shared, "These girls have blessed me more than I've blessed them—they've been such an amazing group. Steve recruits such good girls—not just as basketball players, but as Christian young women."
"I'll still be around some," he added. "This isn't the end of basketball for me—it's just time to take a break. I couldn't have asked for anything better when I left Monterey High School than to come back to LCU. It's been such a blessing."