Wilson Excellence in Teaching Awardees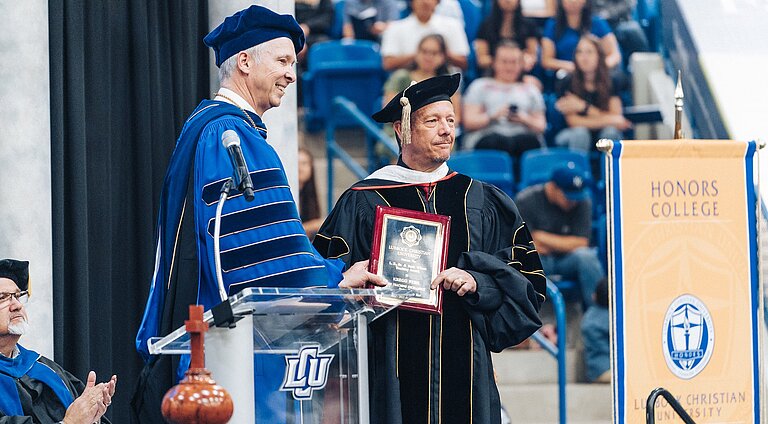 There are many awards given at the culmination of each academic year to recognize individuals who have exceeded expectations and emerged as scholars and leaders on campus. Among these awards are the prestigious L.R., Sr. and Ruth Wilson Excellence in Teaching Award, established by former LCU trustee, Dr. Ray Wilson, in honor of his parents.
L.R. Wilson, Sr. was a distinguished proponent of Christian education and a person whose lifelong example illustrated the personal and professional mission of changing lives. Each year the award is presented to two faculty members at spring commencement for their commitment to living out this mission through their work in Christian education. This year's recipients are Drs. Jeremy Hegi and Kregg Fehr.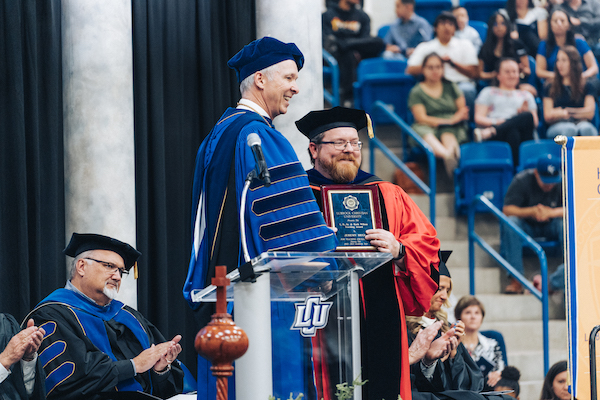 Dr. Jeremy Hegi joined the LCU faculty in the fall of 2019 as an Assistant Professor of Church History. He is setting an impressive trajectory for scholarly contributions in his field and brings his scholarship to bear directly on the student experience in the classroom in engaging ways and has quickly made a name for himself as an outstanding teacher. He teaches undergraduate and graduate courses in church history, with specialization in American church history and global Christianity, as well as a course entitled The Ministry of Teaching. He also teaches both Christian Life and Christian Heritage courses in LCU's general education curriculum. Dr. Hegi is widely recognized by his peers and students as someone who invests in the highest quality of course content, exercises creativity in the classroom, demonstrates excellent pastoral care for students, maintains a high degree of rigor while also drawing students into deep and meaningful engagement, and demonstrates humility and respect for all. 
Hegi's colleague, Dr. Michael Martin, Professor of Undergraduate Bible, shared "Dr Hegi is a gifted speaker and lecturer, he runs amazing discussions, he is conversant in his field and active in his guild, he invests himself in student relationships, he mentors, he challenges, he encourages, he counsels.  In a word, he is virtuous."
"Dr. Hegi is naturally gifted at explaining complex things in a way that is easy to understand while also leading quality discussions that invite critical thinking," shared Paige Schneider, graduating missions major. "His assignments are difficult and require time, but he goes above and beyond to communicate his expectations clearly. Dr. Hegi has been one of the most influential and impactful professors of my college experience. He is humble and truly prioritizes the education and well-being of each of his students."
---
Dr. Kregg Fehr has taught at LCU for 23 years, currently serving as Professor of History and member of the Honors College faculty. A specialist in 20th century American history, Dr. Fehr teaches popular courses in U. S. History, the History of Science and Technology, Russian History, and the History of Conspiracy Theory in America. Dr. Fehr offers a variety of teaching strategies with energy and excitement. From a traditional, detailed lecture on paradigm shifts in science, to a march across campus, students in tow, exploring White House architecture and Christian nationalism embedded among university structures – or even speaking in chapel on Election Day, fully dressed in his characteristic American flag suit – Dr. Fehr always captures the focus of his topic and the attention of his students.
Also known for his field trips, Dr. Fehr might take History of the Cold War students to a nearby retired missile silo complex, History of Environmentalism classes to Oklahoma's Wichita Mountains to study flora and geography, or Honors College students to the McDonald Observatory for starwatching, all with unplanned stops along the way to discuss rock formations or popular cultural icons. Dr. Fehr envisioned the popular pre-semester E Pluribus Unum class trip for incoming freshmen to Philadelphia, Gettysburg, and Washington, D.C. and he has recently expanded American history classes to include excursions to Boston and San Francisco.
In recent student evaluations for Dr. Fehr's classes, two aspects received repeated mention: His helpful lecture outlines and his ability to include "little tangents" and "weird facts" that made history fun and interesting. And then there are similar versions of this one line: "I loved this class! I wish I could take more classes with Dr. Fehr just because of who he is!"
Dr. Fehr's scholarship often focuses on teaching, including his recently completed co-authored revision of a popular U.S. history textbook.
"I am thrilled to learn that the faculty have selected Dr. Fehr for this honor for an unprecedented third time, which is a testimony not only to his excellence as a teacher but to his respect from his colleagues," said Dr. Stacy Patty, Dean of the Hancock College of Liberal Arts and Honors College. "Dr. Fehr embodies the very best of university teaching, and his concern for student learning and commitment to continuous improvement are certainly worthy of imitation."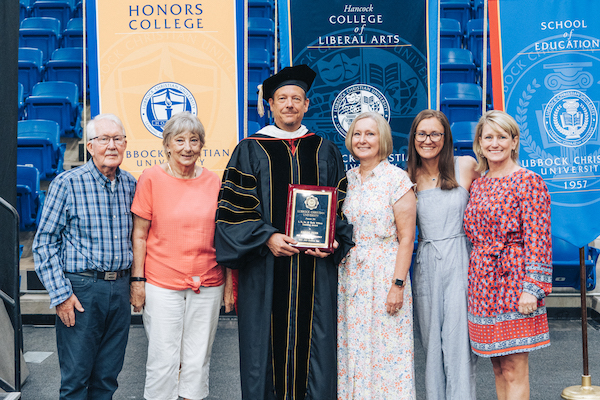 ---